Politics
Bernie Sanders won Methuen by literally one vote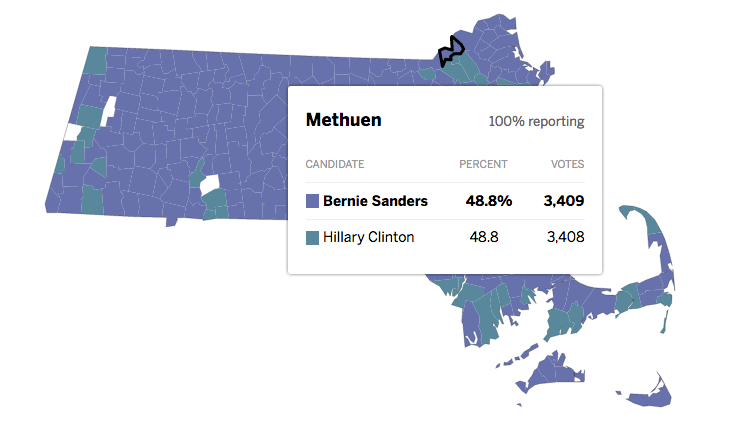 Yes, every single vote really does count.
Bernie Sanders won over Hillary Clinton in the city of Methuen by exactly one vote on Tuesday, as he received 3,409 votes to her total of 3,408. That means Sanders won by a margin of .01 percent, according to Methuen's official tally [PDF].
Plenty of would-be Clinton voters in Methuen who didn't make it to the polls could be kicking themselves today.
Those who voted for someone else could be feeling regretful, too, including 42 people who voted for Martin O'Malley, 15 who voted for Roque "Rocky'' De La Fuente, 111 who bubbled in "No Preference,'' and 83 people who chose to write in a candidate.
Methuen wasn't the only close win for Sanders, according to initial results. He beat Clinton by two votes in Avon, with 402 votes to her 400. Not to be outdone, Clinton bested Sanders in Chatham 669 to 661 for a total of eight votes.
Across the state, Clinton bested Sanders by 50.2 to 48.6 percent. That's a difference of about 19,000 Methuens.
The Methuen city clerk's office said they are finalizing the election results on Wednesday. For now, though, Methuen is a reminder of the power of the single voter.