Politics
Aggravated Ted Cruz tells Donald Trump to learn not to interrupt: 'Count to 10, Donald. Count to 10.'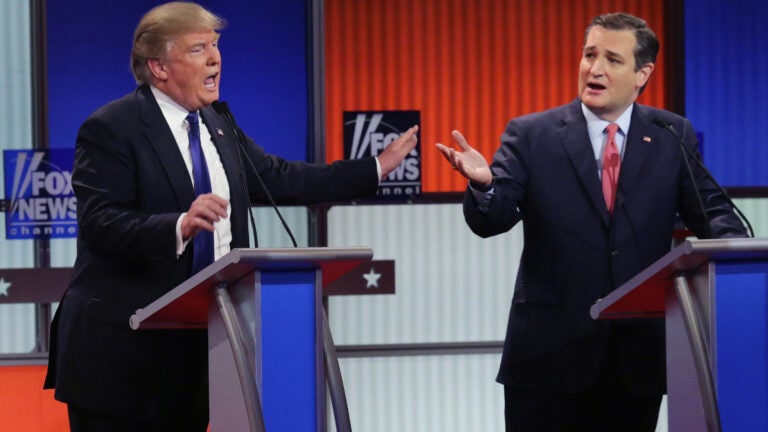 The Republican debate Thursday was yet another contentious affair, from name-calling to interruptions — interruptions which were particularly aggravating to Texas Sen. Ted Cruz.
[fragment number=0]
[fragment number=1]
While Cruz attempted to knock Donald Trump for his political donations to Hillary Clinton and an ongoing lawsuit over Trump University, the Republican front-runner refused to let the senator speak uninterrupted.
"It's a minor civil case,'' Trump repeatedly insisted while Cruz talked.
"Donald, learn not to interrupt,'' Cruz finally responded. "It's not complicated. Count to 10, Donald. Count to 10.''
About 20 minutes later, it happened again.
[fragment number=2]
"Donald, please I know it's hard not to interrupt,'' Cruz said, grimacing. "Breathe, breathe, breathe.''
"Lying Ted,'' Trump said under his breath into the microphone.
"Breathe,'' Cruz repeated, before pausing to collect himself — which gave Sen. Marco Rubio time to interject.
"When they're done with the yoga, can I answer a question?'' Rubio jumped in.
"I really hope we don't see yoga on this stage,'' Cruz cracked back.
"Well, he's very flexible, so you never know'' Rubio added, referring to Trump's defense of his flip-flopping on positions.
Watch: Top moments from the Republican presidential debate
[fragment number=3]