Politics
Mitt Romney thoroughly blasts Donald Trump as 'phony,' 'fraud'
"He's playing the American public for suckers,'' Romney said.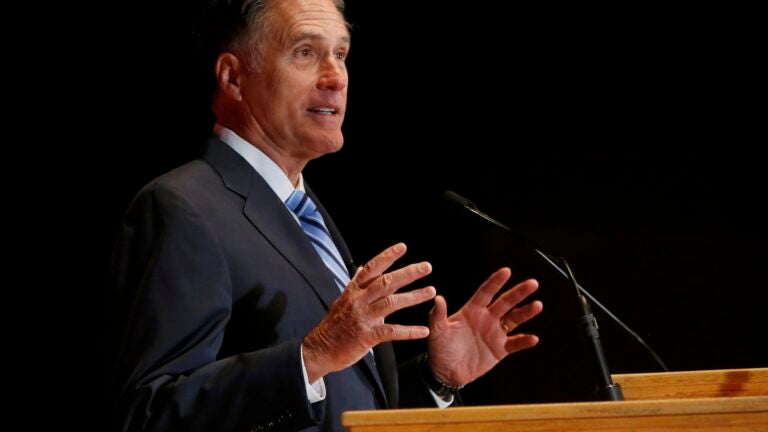 Mitt Romney delivered the most comprehensive denunciation of Donald Trump to date on Thursday, thoroughly rejecting the billionaire's temperament, his proposed policies, and his ability to tell the truth.
"Donald Trump is a phony, a fraud,'' Romney said at the University of Utah. "His promises are as worthless as a degree from Trump University. He's playing the American public for suckers: He gets a free ride to the White House and all we get is a lousy hat.''
Coming from the former Republican nominee, Thursday's speech marked the most notable anti-Trump statements from any GOP leader not running for president.
Romney warned that Trump's plan would send the economy into a prolonged recession, raise the deficit and debt, and start a trade war that would hurt consumers. He said Trump was "very very not smart'' on foreign policy and doubted his claims of business success.
"But wait, you say, wait wait wait, isn't he a huge business success? Doesn't he know what he's talking about? No he isn't. And no he doesn't,'' Romney said. "A business genius he is not.''
He detailed a series of failed companies started and shuttered by the billionaire, including Trump Airlines, Trump University, Trump Magazine, Trump Vodka, Trump Steaks, and Trump Mortgage.
In addition, he contrasted Trump's temperament with America's history of "men of character.''
"Dishonesty is Trump's hallmark,'' Romney said, noting his widely discredited claim that he had seen thousands of Muslims celebrating on 9/11. "His is not the temperament of a stable, thoughtful leader. His imagination must not be married to real power.''
Romney, the former Massachusetts governor, has become more vocal in his criticisms of Trump in recent weeks. He has accused Trump of hiding a "bombshell'' in his tax returns and rejected his "disgusting'' response to receiving a former Ku Klux Klan leader's support. He repeated those criticisms in his remarks Thursday.
Despite his forceful anti-Trump rhetoric, Romney declined to endorse another candidate. He said he would vote for the contender in each state who would best keep Trump from acquiring enough delegates to secure the nomination.
Romney's speech included a wide vocabulary, using words like "improvident,'' "bombast,'' and "enmity.'' The word choice was a marked contrast from Trump's emphasis on simple, easy-to-understand language.
Finally, Romney challenged listeners to follow how Trump responds to Romney's criticisms.
"Will he talk about our policy differences or will he attack me with every imaginable low road insult?'' he asked.
Earlier on Thursday, Trump laid into Romney—"who doesn't know how to win''—in a series of tweets and by calling into morning news programs.
[fragment number=0]
[fragment number=1]