Politics
Scott Brown defends Donald Trump, calls Mitt Romney's comments 'inappropriate'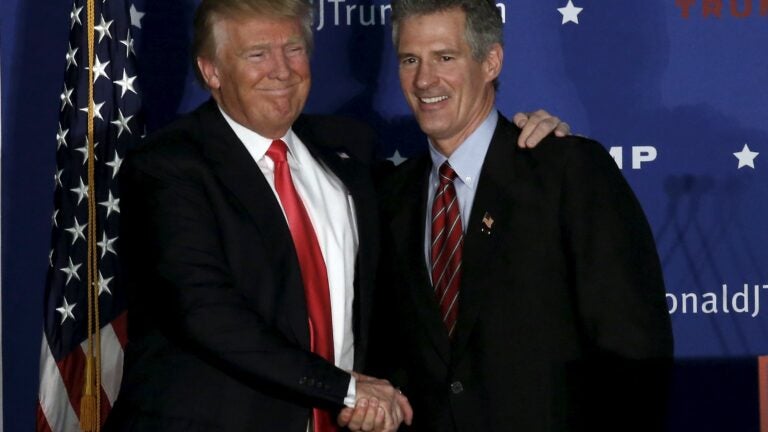 Following Mitt Romney's scathing speech Thursday rejecting nearly every aspect of Donald Trump's presidential campaign, former Massachusetts Sen. Scott Brown defended Trump in a Boston Herald Radio interview, calling the former Massachusetts governor's comments "inappropriate.''
"Obviously I don't mind drawing contrast at all, but to call people phony and fake and that sort of thing I think is inappropriate, certainly,'' Brown told the hosts of "Morning Meeting.'' "I think what he has done, the governor, is he is going to rally even more people to come out for Donald Trump and mobilize them even more and have them understand what's at stake here.''
In the earlier speech, Romney called Trump a "phony'' and a "fraud,'' saying: "His promises are as worthless as a degree from Trump University. He's playing the American public for suckers: He gets a free ride to the White House and all we get is a lousy hat.''
Waiting until Trump had a steady lead in the primary following a victorious Super Tuesday where he took seven states — including Massachusetts — to decry the candidate's lead "doesn't look good,'' Brown said.
"You know, I have a very strong relationship with the governor,'' Brown told Herald Radio. "He certainly has the ability and the right as somebody who has been there and won elections and fought in major elections to say whatever he wants. I just happen to disagree with him, and if he and other folks in the establishment want to do something about Donald Trump they should have probably done it months ago.''
Still, Brown, who endorsed Trump before the New Hampshire primary, was quick to note that he and the Donald don't see eye-to-eye on everything. While the two share views on certain conservative principles, such as border control, national debt, and plans to defeat ISIS, Brown said it's also important to support Trump because he's the Republican Party's front-runner, and choosing to vote for someone else — or to abstain from voting — will only help the Democratic contender.
"The question is, what happens at the end of the day when it's on the line?'' Brown asked. "Let's say hypothetically, it is Donald Trump, he's our guy. He's going up against Hillary Clinton and he needs your vote to basically take back the White House, keep the Senate, and do all the things that we've talked about for forever, and you say you're not going to vote?''
Despite the tension Thursday's comments might have brought between the two Massachusetts politicians, Brown said the feelings aren't personal, and at the end of the day, he'd still "grab a coke and a pizza'' with the former governor.
"I'll always respect him and I'll always have a very special place in my heart for him and his family,'' he said. "I think he's a wonderful man, he's a great policy guy, I just happen to disagree with him on this issue.''
Listen to the full Herald Radio interview here:
[fragment number=0]