Politics
Bernie Sanders on fracking: 'My answer is a lot shorter'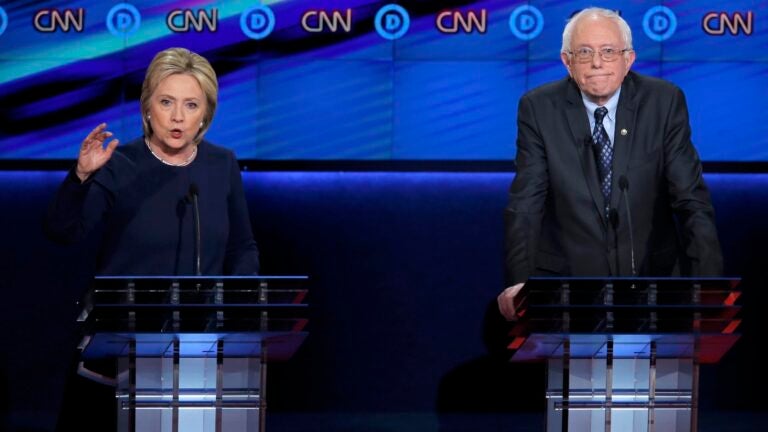 When it comes to the environment, Hillary Clinton and Bernie Sanders are similarly positioned on most issues. From addressing climate change to the Keystone XL pipeline, the two candidates stand on the same side, with the Vermont senator edging Clinton slightly to the left.
However, the candidates' differences were highlighted in Sunday's debate when they were asked to explain their stance on fracking — also known as hydraulic fracturing, the process of injecting a mixture of water and chemicals into the earth in order to extract natural gas.
Clinton answered first on the issue, which is known as much for its environmental detriments as it is for its benefits to the energy economy, outlining her conditions for allowing fracking.
[fragment number=0]
Transcript per the Washington Post:
You know, I don't support it when any locality or any state is against it, number one. I don't support it when the release of methane or contamination of water is present. I don't support it — number three — unless we can require that anybody who fracks has to tell us exactly what chemicals they are using.

So by the time we get through all of my conditions, I do not think there will be many places in America where fracking will continue to take place. And I think that's the best approach, because right now, there places where fracking is going on that are not sufficiently regulated.

So first, we've got to regulate everything that is currently underway, and we have to have a system in place that prevents further fracking unless conditions like the ones that I just mentioned are met.
Then it was Sanders' turn to answer:
My answer — my answer is a lot shorter. No, I do not support fracking.
The two answers illustrate the trajectory of the Democratic primary: Sanders' ideological purity pulling Clinton, if not all the way, to the left.
As Mother Jones has well-documented, Sanders has called for a nationwide ban on fracking over concerns of the process' contribution to contaminated drinking water, earthquakes, and climate change — even if the ban would be nearly impossible to implement without cooperation from both the House and Senate.
Meanwhile, the former secretary of state's history on fracking is more complicated. In 2012, Clinton's State Department promoted fracking internationally for the benefit of U.S. energy companies. But she has since suggested more regulations and environmental safeguards, tracking toward Sanders' position.
Top moments from the debate:
[fragment number=1]