Politics
Jason Sudeikis as Mitt Romney returns, as 'Saturday Night Live' brutalizes the Republican presidential field
"We do not say racist and sexist things,'' Sudeikis said of Republicans. "We imply them subtly over decades and decades of policy.''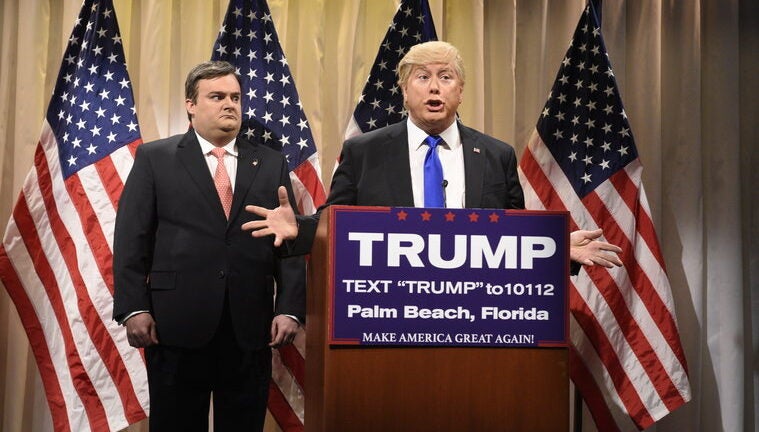 Donald Trump. Chris Christie. Ted Cruz. Mitt Romney. Trump supporters.
In its first post-Super Tuesday show, Saturday Night Live spared no one in the Republican presidential primary.
From the very start, in a mock CNN segment starring Beck Bennett as Jake Tapper, the show went down the line torching the GOP field's major players. But first, of course, was Trump.
[fragment number=0]
"The media is saying they haven't seen anything like this, not since Germany in the 1930s,'' the Republican front-runner, played by Darrell Hammond said. "I mean everyone loves me: racists, ugly racists, people who didn't even know they were racist.''
"Trump'' also expressed his appreciation for his endorsement from New Jersey Gov. Chris Christie:
"I mean, he really is a sad, desperate little potato back there, aren't you, Chris?'' he said.
"Yes, sir. Thank you, sir. Please, sir, may I have another,'' Bobby Moynihan as Christie answered, in the re-enactment of last week's Super Tuesday victory speech.
Hammond's Trump also made the Republican candidate's, um, crude reference from Thursday's debate a tad more overt.
Jumping ahead a bit in the show, SNL also went after Trump's supporters in a fake commercial. The ads' title, "Racists for Trump,'' should say enough.
[fragment number=1]
Back in the cold open, after a brief check-in with Hillary Clinton celebrating her Super Tuesday wins, Bennett's Tapper turned back to the "fun'' race, beginning with Taran Killam's terrifying take on Ted Cruz.
"When I beat someone it hurts, because I still wear my big, ugly class ring. That's right I'm one of those people,'' Killam as Cruz said, after the Texas senator's wins Saturday in Kansas and Maine. He downplayed, however, his two other losses over the weekend, in Kentucky and Louisiana.
"That's OK, I still love those states like they're my own children,'' he said. "And just like my own children, tonight those states said, 'Ew, gross. I hate you.'''
Finally, the segment concluded with the return of Jason Sudeikis to the show as former Massachusetts Gov. Mitt Romney.
"That's right, America — I'm back,'' the two-time Republican presidential hopeful announced. "You didn't ask for it, but you got it.''
Just like the real Romney, Sudeikis used his time to criticize Trump.
"We in the GOP, the party of the great Ronald Reagan, we do not say racist and sexist things,'' Sudeikis as Romney asserted. "We imply them subtly over decades and decades of policy.''
"Romney'' said he was forced to take things into his own hands and put Trump "on blast.''
"America, he's a fool,'' he implored.
But didn't Trump endorse Romney in 2012, Bennett as Tapper asked.
"Like I said, he's a fool!'' Sudeikis' Romney replied, admitting his own anti-Trump speech Thursday, if anything, likely helped the 2016 GOP front-runner.
[fragment number=2]
Despite the extended bashing, it may be Trump laughing at the end of the week. In between Romney's speech Thursday and SNL's roast Saturday night, the Republican candidate won two more states (even if Cruz narrowed his lead in delegates).
Or as another New York-based media presence put it:
[fragment number=3]