Politics
Donald Trump did not like 'wise guy' Mitt Romney reading mean tweets on 'Jimmy Kimmel Live'
"Let's put in this way: I would not have done that.''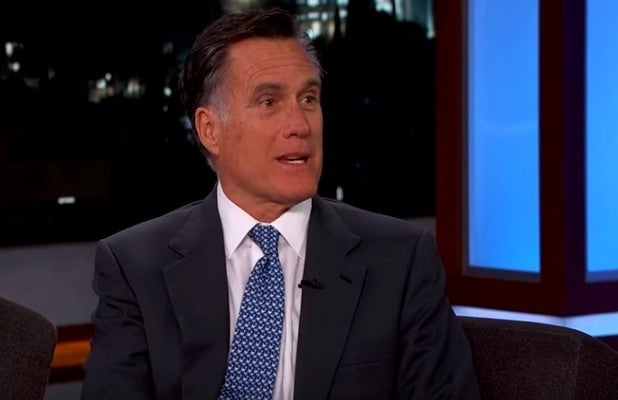 Reading insulting tweets about oneself on Jimmy Kimmel Live has become a self-deprecating tradition for celebrities of all sorts — including, now, political celebrities.
In Mitt Romney's appearance on the show Tuesday night, Kimmel handed the former Massachusetts governor a few mean tweet print-outs, including one from "your friend, Donald Trump.''
"It will be painless, if you just go through them,''Kimmel promised.
Watching Romney deadpan his way through Twitter's finest is well worth it, if only to see him say the phrase "pic or it didn't happen'' or react to the handle "@cheddarbiskit.''
[fragment number=0]
"@realDonaldTrump,'' Romney read Trump's tweet aloud. "Mitt Romney had his chance and blew it. Lindsey Graham ran for president, got ZERO, capitalized, and quit! Why are they now spokesmen against me? Sad!''
But Romney came prepared for the line of attack.
"Got zero?'' he asked. " The only people I know who got zero are the ones who paid $25,000 to be at Trump University. They're the ones who got zero.''
Another tweet began, "@MittRomney = loser.''
"That's true actually, I lost,'' the 2012 GOP nominee admitted.
Phoning in to Fox & Friends Wednesday morning, Trump was not amused.
"He shouldn't have done what he did last night,'' Trump told the morning entertainment show.''He shouldn't have gone on that show, because, I understand where he's coming from. He had a big defeat years ago, four years ago, and I understand where he's coming from. But he shouldn't have gone on that Jimmy Kimmel show. And Jimmy Kimmel is a great guy. But he demeaned himself by doing that.''
Asked why exactly he thought it was demeaning, Trump — himself a late-night show frequenter — said he thought the sketch did not "look good.''
"Let's put in this way: I would not have done that,'' he said. "I don't think he should have been reading the tweets, the negative tweets. Why is he doing that?''
Fox News then rolled a clip of the segment to push Trump on what was wrong with it.
"Well I think he's a wise guy.'' Trump said. "And he had a big failure and he probably has to admit that.''
To be fair, Romney did.
Trump added he thought the former presidential nominee should be uniting the Republican Party, "not tearing it apart.''