Politics
Hillary Clinton says she would look to Elizabeth Warren for advice on appointments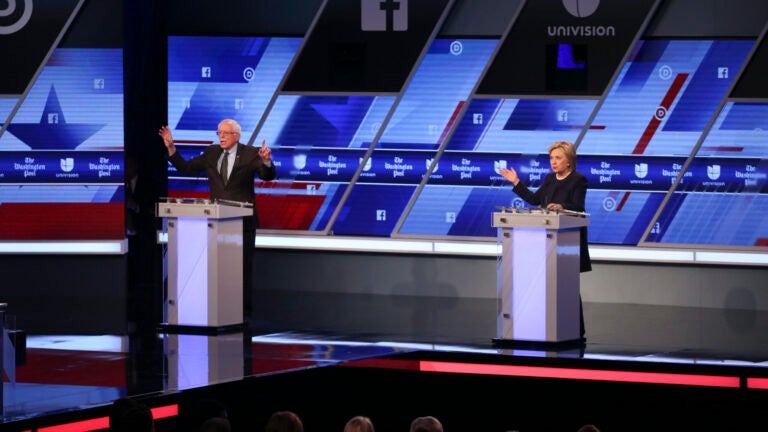 The Democratic primary race cannot escape the shadow of Elizabeth Warren.
In Wednesday night's Univision Democratic debate, Hillary Clinton was asked about the Massachusetts senator's saying about Washington D.C.'s so-called revolving door with corporations and the importance of appointing agency heads:
"Do you agree with Elizabeth Warren's criticism that both your husband's administration and President Obama's have relied too heavily on advisers who represent the world view of the big banks?'' asked Washington Post correspondent and debate moderator Karen Tumulty.
Clinton said she agreed about the importance of closing the revolving door, pointing to a piece of legislation from Wisconsin Sen. Tammy Baldwin she supports.
The bill would prohibit companies from giving bonuses to employees who leave to join the public sector; increase the ban on government oversight employees from cases involving former employees from one year to two; and tighten the requirements for lobbyists.
"I will be looking for people who will put the interests of consumers first, who will do more to try to make sure Main Street flourishes,'' Clinton said. "And I will very much reach out and ask for advice as to who should be appointed, including to Senator Warren and many of my other former colleagues in the Senate.''
Clinton used her response to pivot into an attack on fellow Democratic candidate Bernie Sanders, who, like Warren, has been critical to a degree of the past presidencies of Clinton and Obama.
"Sen. Sanders is always criticizing the two recent Democratic presidents, President Clinton and President Obama,'' she said. "And that's fine, but I wish he would criticize and join me in criticizing George W. Bush, who I think wrecked the economy and created the conditions for the great recession.''
Given that his name was mentioned, Sanders invoked his right to respond.
"I gather Secretary Clinton hasn't listened to too many of my speeches or followed my work in the Congress,'' the Vermont senator said, particularly noting his opposition to the war in Iraq, among other policies.
While Sanders said he supported Presidents Clinton and Obama, he added that the 1990s was when much deregulation of Wall Street took place.
"Yes, good things happened,'' he said. "But some dangerous mistakes were made that laid the groundwork for some of the problems we're having with a disappearing middle class today.''