Politics
Petitioners deliver 800,000 signatures to Mitch McConnell in support of Elizabeth Warren's Social Security bill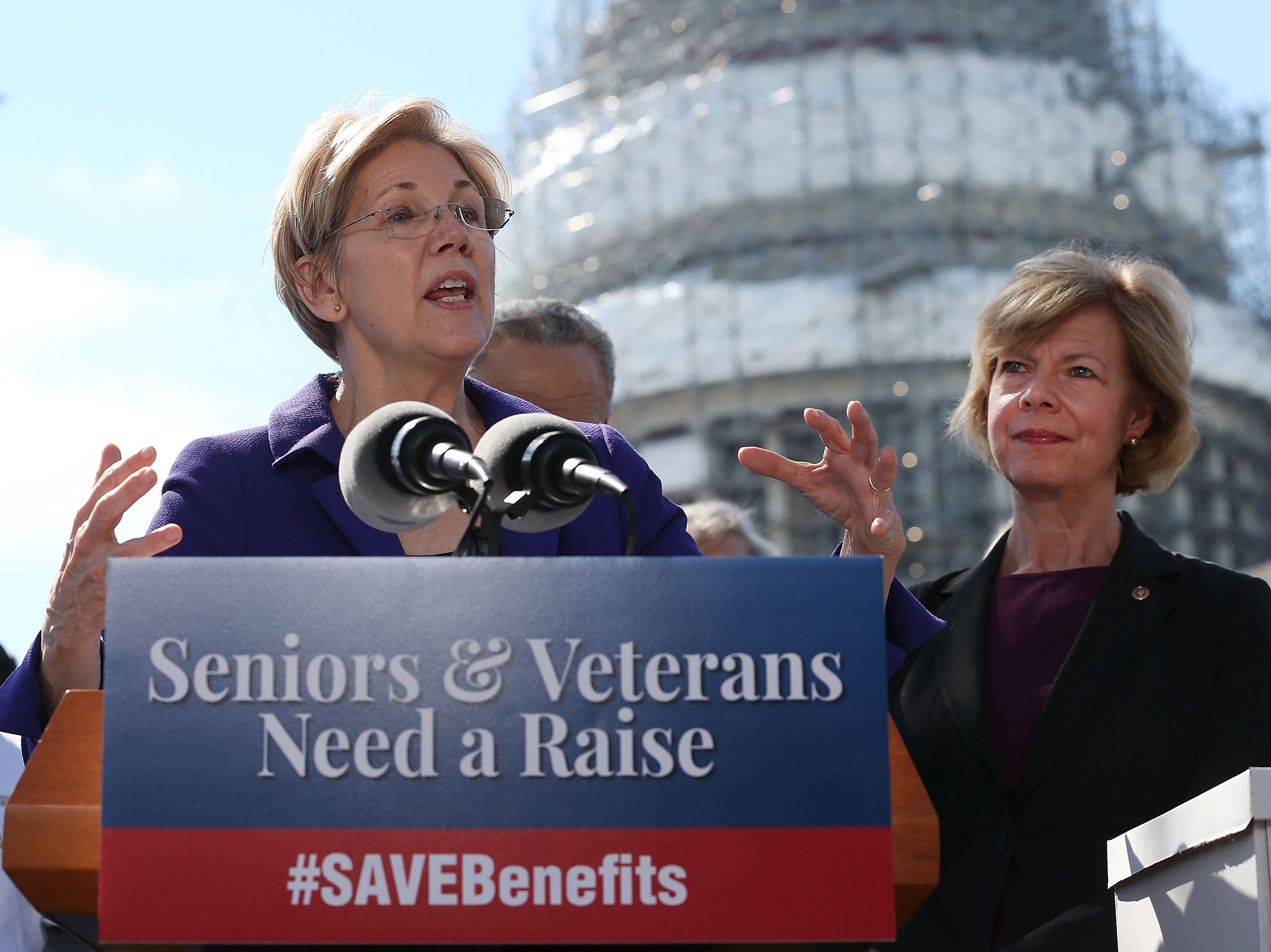 Sen. Elizabeth Warren is continuing her push to give government retirement beneficiaries the same percentage raise as America's top CEOs, as she puts it.
The Massachusetts senator joined colleagues and activists Wednesday to deliver a petition signed by 800,000 people calling on Senate Majority Leader Mitch McConnell to hold a vote on her bill, the SAVE Benefits Act, which would give 70 million seniors, veterans, and people with disabilities a one-time payment of $581 to make up for the stagnant cost of living adjustment (COLA) in government benefits in 2016.
"When we vote, we live our values,'' Warren said in a press conference outside the U.S. Capitol. "Me, I stand with the people who work so hard to make this country safe and strong. Those are my values and that's what this bill is all about.''
Warren was joined Wednesday by New York Sen. Chuck Schumer and Wisconsin Sen. Tammy Baldwin, as well as a coalition of progressive and senior advocacy groups.
[fragment number=0]
The Bay State senator said the $581 payment would equate to a 3.9 percent increase in Social Security payments — the same percentage increase as the country's top CEOs got in 2014.
Warren said those raises were paid in part by the American taxpayers, due to tax breaks for performance-based pay.
"But for 70 million seniors, veterans, and Americans with disabilities, there are no raises this year,'' she said "No cost of living increase in their Social Security checks. For seniors and vets and people with disabilities, there is no sweet taxpayer subsidy.''
Reached for comment Wednesday, a spokesman for McConnell's office told Boston.com the bill, which Warren introduced in November, had been referred to the Senate Finance Committee. The Kentucky senator and Republican Majority Leader has yet to take a position on the bill, which has no GOP co-sponsors.
Following the press conference, a group of seniors and veterans delivered the 800,000-signature petition to McConnell's office. According to Julian Blair, a Maryland veteran who delivered the petition, a McConnell staffer told the group they will "keep in touch.''
"We'll wait to see what happens there,'' Blair said.
[fragment number=1]
To pay for the $581 payment, Warren's bill would amend the IRS code to eliminate the previously-mentioned provision that allows corporations to claim tax deductions on "performance-based compensation.''
"So let's be clear here,'' she said Wednesday. "We are going to have this fully paid for. In fact, there would be money leftover to help strengthen the Social Security system.''
Warren added that it was perfectly fine for companies to give CEOs raises, but they "won't get a subsidy from the American taxpayer.''
She then pivoted to put the burden of passing the bill on the party controlling the House and Senate, drawing a contrast between the supposed values of Democrats and Republicans.
"Republicans say it is more important to save a tax break to help multimillionaire executives,'' the senator said. "Now, Democrats say it is more important to spend the exactly that same money to give a one-time $581 raise to seniors, who worked hard all their lives, to veterans, who served our country honorably, and to Americans with disabilities, who rely on these benefits to make ends meet.''
This year will be just the third time since 1975 that recipients of Social Security, veterans benefits, or other government retirement programs will not receive the annual raise to adjust for inflation.
As previously noted, due to falling gas prices, inflation declined in 2015. However, inflation-based COLA does not effectively account for the way most retirees spend their money (less so on gas; more so on health care costs, which have increased more than the inflation rate).
"The 0 percent COLA was calculated partly by figuring in a lower price for gas, but I don't drive very much,'' said Susan Taylor, a member of the Maryland/DC Alliance for Retired Americans. "This one-time emergency payment would help me with what I do spend money on: food, health care expenses, and housing.''
During remarks outside the Capitol Building, Blair urged McConnell to take immediate action.
"All we're asking, when these signatures are delivered today, is that Senator McConnell bring SAVE Benefits Act to the floor.'' he said. "Not tomorrow, not next week, but today.''
As of Wednesday evening, no further action had been taken on the bill.