Politics
Donald Trump campaign manager, a Lowell native, accused of getting rough with female reporter
Corey Lewandowski denied the allegations Thursday.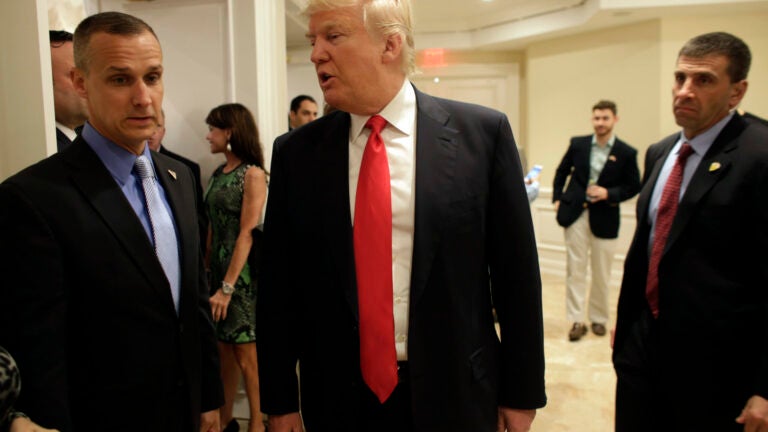 Violence isn'tanewaspect of Donald Trump's campaign events. But not until now has an actual member of the Republican candidate's staff been implicated in an altercation.
Following Trump's press conference Tuesday night in Florida, Breitbart.com reporter Michelle Fields said she was physically grabbed and yanked toward the ground by campaign manager Corey Lewandowski as she tried to ask the GOP candidate a question.
I wasn't called upon to ask a question during the televised press conference, but afterwards Trump wandered around, stopping at every reporter to take their questions. When he approached me, I asked him about his view on an aspect of affirmative action.

Trump acknowledged the question, but before he could answer I was jolted backwards. Someone had grabbed me tightly by the arm and yanked me down. I almost fell to the ground, but was able to maintain my balance. Nonetheless, I was shaken.
Multiplereports, including from the Washington Post's Ben Terris, identified the person who grabbed Fields as Lewandowski — a Lowell-raised, New Hampshire resident, who has served as Trump's top staffer since the beginning of the campaign.
According to Terris, the 41-year-old former public safety officer "grabbed [Fields'] arm and yanked her out of the way…Fields stumbled. Finger-shaped bruises formed on her arm.''
Terris continued his first-hand account:
"I'm just a little spooked,'' she said, a tear streaming down her face. "No one has grabbed me like that before.''

She took my arm and squeezed it hard. "I don't even want to do it as hard as he did,'' she said, "because it would hurt.''
Fields tweeted a picture of the apparent bruises on her arm Thursday afternoon.
[fragment number=0]
Politico reporter Hadas Gold also obtained audio of the incident and posted the transcript Wednesday afternoon. Here's part of the exchange:
Fields: "Mr. Trump, you went after the late Scalia for affirmative action, do you — are you still against affirmative action?''

Voice (allegedly Corey Lewandowski): "Excuse me, thank you.''

A few moments later (noise of the room can be heard)…

Terris: "You OK?''

Fields: "Holy sh*t.''

Terris: "Yea he just threw you down.''

Fields: "I can't believe he just did that that was so hard. Was that Corey?''
Lewandowski responded Thursday by tweeting out links to past stories — one in which Fields said she and a photographer were assaulted by New York police and another in which she said she was sexually harassed by a Republican congressman — in an apparent attempt to discredit the reporter, suggesting she was seeking attention.
"We're Calling Bull[—-] On Michelle Fields,'' read the headline of a third story the campaign manager tweeted Thursday.
In a statement to ABC News, Trump campaign spokesperson Hope Hick also vehemently denied the accusations.
[fragment number=1]
"As one of dozens of individuals present as Mr. Trump exited the press conference I did not witness any encounter,'' said Hicks. "In addition to our staff, which had no knowledge of said situation, not a single camera or reporter of more than 100 in attendance captured the alleged incident.''
However, The Daily Beast, citing unnamed sources, previously reported Wednesday night that Lewandowski acknowledged to a Breitbart.com that he "did manhandle Fields.''
Lewandowski's explanation to [Breitbart.com Washington political editor Matthew Boyle], said these sources, was that he and Fields had never met before and that he didn't recognize her as a Breitbart reporter, instead mistaking her for an adversarial member of the mainstream media.
Breitbart.com, a website founded by late conservative commentator Andrew Breitbart, has given the Trump campaign distinctly friendly coverage. The organization, however, stood by its reporter Thursday.
"We are disappointed in the campaign's response, in particular their effort to demean Michelle's previous reporting,'' Breitbart News Network CEO and President Larry Solov said in a statement.
"Michelle Fields is an intrepid reporter who has covered tough and dangerous stories'' Solov said. "We stand behind her reporting, her techniques, and call again on Corey Lewandowski to apologize.''
Both Breitbart and Fields said they have yet to receive any explanation from the Trump campaign for the alleged incident.
"Even if Trump was done taking questions, Lewandowski would be out of line.'' Fields wrote Thursday. "Campaign managers aren't supposed to try to forcefully throw reporters to the ground, no matter the circumstance.''