Politics
Donald Trump defends his claim that 'Islam hates us' in Republican debate
"Did you mean all 1.6 billion Muslims?''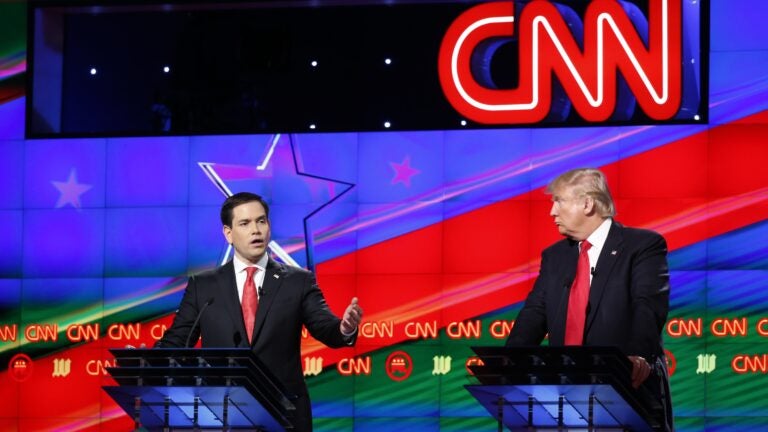 After Donald Trump told CNN's Anderson Cooper that he think's "Islam hates us'' in an interview Wednesday, the Republican front-runner was pushed to clarify his remarks by fellow CNN reporter Jake Tapper in Thursday's debate.
"Did you mean all 1.6 billion Muslims?'' Tapper asked Trump on stage at the University of Miami.
[fragment number=0]
"I mean a lot of them,'' the GOP front-runner responded, to some laughter from the audience. "I mean a lot of them.''
Asked if he wanted to clarify his comment, Trump said there's "something going on that maybe you don't know about,'' adding, "there's tremendous hatred.''
"And I will stick with exactly what I said to Anderson Cooper,'' Trump said.
The moderators pivoted to Florida Sen. Marco Rubio, making perhaps a last stand in his home state, to ask if he thinks Republicans should hold themselves to a higher standard.
"I know that a lot of people find appeal in the things Donald says because he says what people wish they could say,'' Rubio said. "The problem is presidents can't just say anything they want. It has consequences — here and around the world.''
Rubio said there's "no doubt'' that radical Islam poses a danger, but added that there are many Muslims who serve the United States in the military. Rubio added that Trump's rhetoric about Islam was endangering Americans internationally.
"You can be politically correct if you want,'' Trump shot back. "I don't want to be so politically correct. I like to solve problems. We have a serious, serious problem of hate. There is tremendous hate.''
Trump added that "we better solve the problem before it's too late.''
Rubio seized on Trump's phrasing.
"See, I'm not interested in being politically correct,'' Rubio said, repeating the line for maximum impact. "I'm not interested in being politically correct. I'm interested in being correct.''
[fragment number=1]
Rubio said a "significant percentage'' of Muslims have been radicalized.
"There is no doubt about that,'' he said. "It is also true if you look around the world at the challenges we face, we are going to have to work together.''
Top moments from the debate:
[fragment number=2]