Politics
Larry David returns to 'Saturday Night Live' as Bernie Sanders—in pajamas
The cold open also tackled the recent violence at Donald Trump rallies.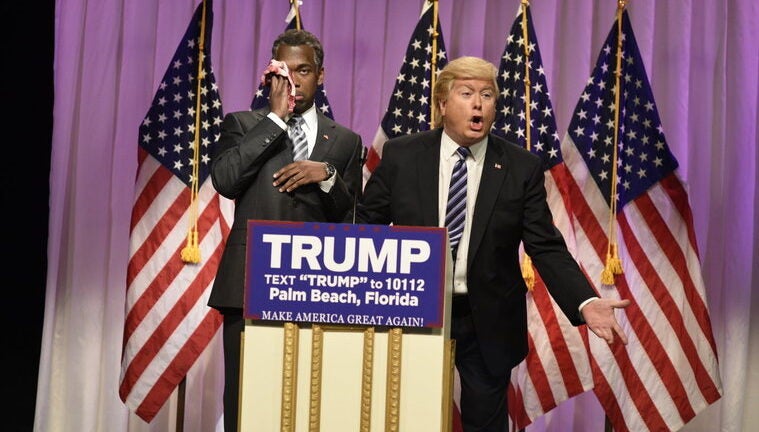 As the Democratic primary drags out, there's one thing Hillary Clinton and Bernie Sanders supporters can both take enjoyment in: MoreLarryDavid on Saturday Night Live.
As it increasingly so often does, SNL began by checking in with the turbulent 2016 presidential primaries. But first, it did so on the Republican side.
Just a week after dropping out of the race, Ben Carson (played by Jay Pharoah) was back to endorse Donald Trump (portrayed, as always, by Darrell Hammond).
[fragment number=0]
Just like in the real event, the two Republicans vowed to put their recent political history behind them.
"We've had our polite disagreements,'' Carson said. "I questioned his knowledge on health care and he called me a psycho and a child molester.''
The audience laughed, but that line was not so far from the truth.
"In my defense, he's a pretty creepy dude,'' Hammond-as-Trump said, shortly before ushering Carson off the podium.
Turning to the Democrats, Larry David returned to celebrate Sanders' recent primary victory in Michigan.
"I wanted to thank everyone who voted for me, and apologize to everyone else for making your Facebook feeds so, so annoying,'' Sanders said. "I mean, I love my supporters, but they're too much, right? I'm great, but I'm not five-posts-a-day great.''
[fragment number=1]
David's now-iconic impression of the Vermont senator explained his success, touching on the demographic realities of his campaign: Limited support among African-American voters, <a href="
Classic Bernie. #ArianaOnSNL pic.twitter.com/VEvatyoMBm

— Saturday Night Live (@nbcsnl) March 13, 2016
" class="">at least in the South.
"My message is resonating with a very diverse group — of white people,'' he said.
The faux-CNN news cast soon thereafter switched back to GOP front-runner, following "reports'' of violence at a Trump rally, of which real-life critics have become increasing alarmed.
Mistaken for a protester, an angry mob had attacked Carson, who was now icing his eye with a Trump steak.
"Guys, what did I say? Not this one,'' Trump reminded his supporters.
[fragment number=2]
The CNN segment ended by checking back with Sanders, who was now wearing pajamas in his hotel room.
"How did you change so fast?'' the CNN anchor asked.
"I always wear [pajamas] under my suit,'' Sanders explained. "That's why my suits are so baggy.''
[fragment number=3]