Politics
A distant second at home, Marco Rubio ends a disappointing campaign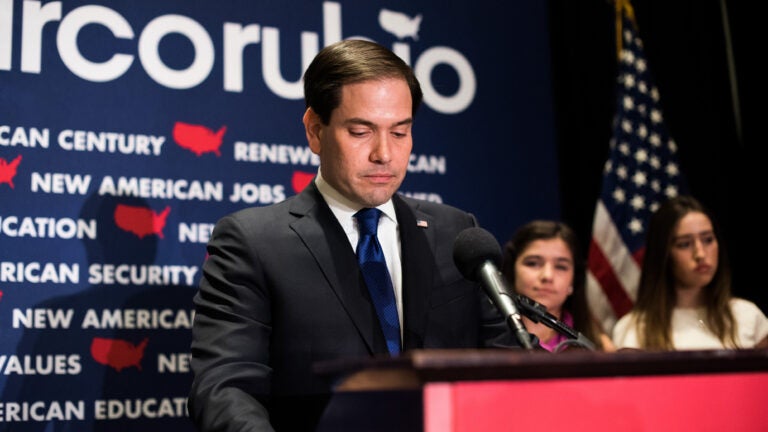 MIAMI — Marco Rubio tried everything to project experience and statesmanship. He held forth on the intricacies of Middle East geopolitics. He rattled off the dangers of a nuclear-armed North Korean dictator.
He even heeded his aides' urgings to wear business suits, not boyish fleece pullovers.
But voters were unmoved. Where his campaign saw a potential president, the Republican primary electorate did not.
At best, he was a young politician whose time had not come. "We can get Marco later,'' one voter told a focus group.
At worst, he was a youngster in over his head: "Little Marco,'' in Donald J. Trump's witheringly succinct dismissal.
The people of his home state handed Rubio, 44, a humiliatingly distant second-place finish on Tuesday that finally persuaded him to face an unhappy fact: Regardless of whether he was ready for the presidency, the voters were not ready for him.
Accepting blame for his campaign's failure in a doleful speech to supporters here, many of them wiping tears from their eyes, Rubio acknowledged the country's anger and mistrust with its leaders.
"America's in the middle of a real political storm, a real tsunami,'' he said. "And we should have seen this coming.''
As shouts of encouragement like "Fight to the convention!'' rose from the crowd, he added: "Look, people are angry.''
Rubio's ill-fated campaign for the White House, which was virtually broke by the time Tuesday's primary arrived, was built on mistaken assumptions about the mood and preferences of the electorate, a misplaced faith in the charisma of the candidate, and misguided predictions about the course of the Republican race.
He promised to change the face of modern conservatism and to make the Republican Party more appealing to young and minority voters. Instead, his gauzy calls for a generational torch-passing were ill-suited to a Republican electorate who wanted someone angrier and more hostile to the system than Rubio could bring himself to be.
Rubio's campaign relied not on any one slice of the Republican Party but on a broad coalition of voters who would unite behind him as a safe and rational choice. But in trying to be too many things to too many people, he won over too few.
The final weeks of his race were a descent into political and personal embarrassment. As his wife fretted audibly about the dwindling size of his crowds, Rubio — who had tried to combine John F. Kennedy's oratory, Ronald Reagan's inspirational conservatism and Barack Obama's message discipline — instead wound up apologizing for crude bathroom jokes.
In an interview aboard his campaign bus, Rubio sounded despondent as he contemplated how ugly the race had become — and his role in its devolution.
"I kind of said, 'Gosh, you know what? It even got to me,''' he said, recalling a difficult conversation he had with his embarrassed teenage daughters, who asked why he had belittled Trump as a pants-wetter with a bad spray tan. He could not give them a good answer, he said. "And I'm someone who's run this whole campaign trying to be above all that stuff. For a brief moment, it even got to me.''
Rubio's fate was in part a function of poor timing. The candidate who harnessed the rage of the Tea Party movement to win a Senate seat in 2010 was consumed by its latest angry incarnation. Then, he was a fresh-faced anti-tax crusader, traveling Florida in a pickup truck; now, he was a Washington sellout who had struck deals with loathed Democrats like Sen. Chuck Schumer of New York.
In a personality-driven campaign, the single policy that seized voters' attention, thanks largely to Trump, was immigration — Rubio's biggest vulnerability with the right. Rubio's failed attempt to rewrite the nation's immigration laws as part of the bipartisan Gang of Eight in 2013 was seen by many conservatives as an unforgivable betrayal.
That feeling took hold even among some of Rubio's earliest admirers. Ed Connor, an anti-tax activist from Ormond Beach, Florida, was smitten with Rubio in 2007, fighting alongside him in Tallahassee to gut Florida's property tax and rallying behind his candidacy for the Senate in 2010. "He was a barn burner,'' Connor recalled fondly. But as a senator, he said, Rubio assimilated Washington's compromising ways.
"He has proven untrustworthy,'' said Connor, who now supports Trump.
Among their mistakes, Rubio and his aides predicted a swift race — and constructed his campaign accordingly. He would hang back for months, then catch fire after voting in the first three states, they predicted. The resulting momentum would carry him to victory in states where he had built little campaign infrastructure.
Instead, the campaign proved a dizzying cycle of boom and bust: a surprising third-place finish in Iowa undone with a mortifying embarrassment in a debate just before the New Hampshire primary, a meltdown that gave an opening to Gov. John Kasich of Ohio. A crucial endorsement for Rubio from Gov. Nikki R. Haley led to a strong second-place result in South Carolina. But Super Tuesday left Rubio the victor in Minnesota and nowhere else.
Rather than accelerating, the campaign became a messy slog, exposing the deficiencies of Rubio's bare-bones operation in states like Kansas, Arkansas, Louisiana and Michigan, where he placed third or fourth.
By the time the race moved to Florida, old friends were alarmed by how little machinery Rubio had in place. One recalled receiving an absentee ballot and waiting for the campaign to begin pestering him to return it, standard practice in a well-oiled presidential campaign. He heard nothing.
Of all the Rubio campaign's miscalculations, the greatest was its expectation that Trump was no more than a fringe candidate who would crash and burn.
Rubio aides believed Trump would fizzle, just as the insurgencies of Patrick J. Buchanan and Ron Paul had. Indeed, they worried that Trump would not survive long enough to bleed support away from Sen. Ted Cruz of Texas, the rival they saw as Rubio's biggest threat.
As Trump gained steam, Rubio aides took cheer: One by one, they predicted, trailing rivals would quit and endorse Rubio as the most palatable alternative to Trump.
But the also-rans who could have helped Rubio the most conspicuously withheld their support. Gov. Chris Christie of New Jersey was galled by a condescending-sounding voice message Rubio left him after Christie ended his presidential campaign. Jeb Bush, stung by his bitter run-ins with Rubio, his onetime protégé, felt no obligation to him and told aides his support could not revive Rubio's chances in Florida anyway. Even Ben Carson brushed aside Rubio's entreaties, telling his aides he did not want to be anybody's traveling salesman.
They took his calls. But they would not endorse him. And Kasich stubbornly stayed in the race.
Rubio's aides gathered reams of research on Trump's business practices: how he was sued for using unauthorized Polish immigrants to help build the Trump Tower in Manhattan, how he hired foreign workers at Mar-a-Lago, his private club in Palm Beach, Florida. Aides wrote jokes to deliver at Trump's expense.
But they sat on that material. Despite Trump's position atop the polls, Rubio aides desperately wanted to avoid a pitched battle with him. They were already being clobbered with tens of millions of dollars in attack ads by the super PAC supporting Bush, and a negative battle on two fronts could be too sullying to Rubio.
Moreover, they believed, as long as Trump was weakening Cruz with his constant jabs and insults, Rubio stood to benefit by staying out of their cage match.
But then media experts hired by the Rubio campaign revealed a portentous data point: Trump was earning 10 times as much news coverage as his nearest rival, a staggering imbalance that was powering his strength in the polls.
On Feb. 23, the night of the Nevada caucuses, Rubio's team realized his strategy was not workable. Trump captured almost half the vote. Rubio nearly reached his own target of around 18,000 votes. But turnout was far higher than his aides had anticipated, and he received just 24 percent of the vote in a state where he had spent much of his adolescence.
Two days later, Rubio finally engaged Trump in a debate in Houston. The goal was to turn the race into a two-man contest by demonstrating that Rubio was the most effective alternative. Rubio's aides crafted a cutting line of attack: Trump, who was ostensibly running to help the little guy, had actually built his fortune by throwing the little guy under the bus.
Rubio accused Trump of exploiting customers of his education venture, saying they went deeply into debt and got little in return. He evoked his own parents, a bartender and a maid, as the kind of hardworking employees that Trump would discard in favor of cheaper foreign labor.
Backstage after the debate, Rubio and his advisers giddily high-fived one another.
But the morning after, Rubio seemed to get carried away. He began ridiculing Trump's tanned face, and suggested he had frightened Trump so badly that he had wet himself.
Voters at first responded well: Rubio drew thousands to a rally in suburban Washington, one of his biggest yet. And polls showed him gaining on Trump in Virginia and Georgia.
But Trump carried both states. Playing Trump's game did not mean Rubio could beat him at it.
Looking at their research after Rubio mocked Trump, campaign aides felt a gut punch: Voters said it was unpresidential, unbecoming and immature.
In the final days, Rubio agonized over the smallest details, worrying aloud that too many volunteers were attending his events rather than working the phones.
Florida, he increasingly knew, would be his last stand.