Politics
Donald Trump on Elizabeth Warren: 'She's got about as much Indian blood as I have'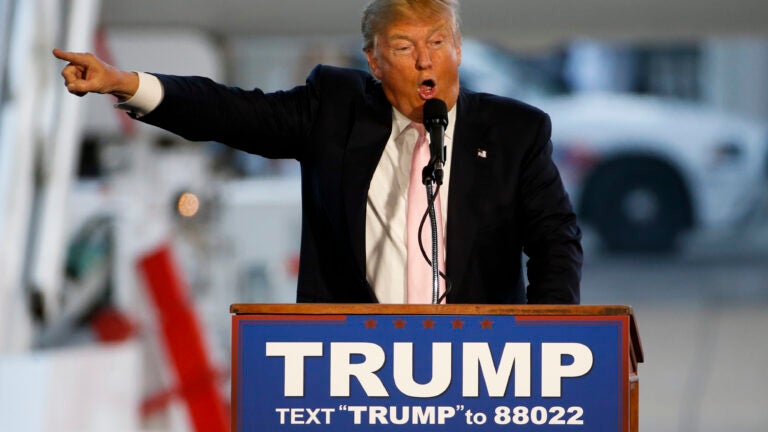 Massachusetts Sen. Elizabeth Warren has been ratcheting up her calls denouncing Donald Trump. And it seems as though Trump has taken notice.
In a New York Times interview Saturday, columnist Maureen Dowd asked the Republican front-runner about the Massachusetts Democrat's criticisms.
"I think it's wonderful because the Indians can now partake in the future of the country,'' Trump answered, referring to controversy surrounding Warren's ancestry, which erupted during the 2012 Senate campaign.
"She's got about as much Indian blood as I have,'' Trump said. "Her whole life was based on a fraud. She got into Harvard and all that because she said she was a minority.''
In 2012, Warren's heritage became an issue, after it was revealed she had in the past claimed minority status as a professor due to Native American ancestry. During the campaign, now-former Sen. Scott Brown, who endorsed Trump last month, said Warren had used her background to get a professional advantage — a claim her campaign rejected.
Polling at the time found that voters were unmoved by the issue.
Warren, who grew up in Oklahoma, never provided substantive evidence regarding her heritage, but said she was told of Native American ancestry by her parents and other family members.
Warren's office did not immediately respond Sunday to requests for comment. During an appearance Sunday morning at the South Boston St. Patrick's Day Breakfast, the senator jabbed both her former and now apparently current Republican rivals.
"Donald Trump is floating Scott Brown as a running mate,'' Warren joked. "It would be the perfect reality-show matchup: Celebrity Apprentice and The Biggest Loser.''
But her previous criticisms of Trump took a much more serious tone. In a Facebook post last Monday, Warren said Trump is "a bigger, uglier threat every day that goes by.''
Warren strongly denounced Trump as a demagogue, drawing historical parallels to other instances in which citizens stayed "quiet for too long, hoping for the best but watching silently as the threat metastasizes.''
"It's time for decent people everywhere – Republican, Democrat, Independent – to say No More Donald,'' she wrote. "There's no virtue in silence.''
Dowd wrote Saturday that while Trump didn't like the comparisons to Adolf Hitler, Benito Mussolini, and other historical fascists, he was "cool with being called an authoritarian.''
"We need strength in this country,'' Trump said.