Politics
Donald Trump refers to Elizabeth Warren as 'the Indian'
Asked about the Massachusetts senator's branding of him as a 'loser,' Trump responded: "Do you mean the Indian?"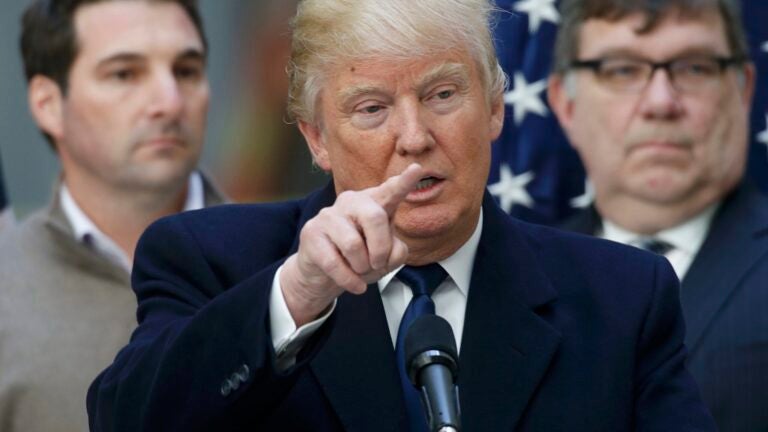 It appears Sen. Elizabeth Warren is the latest Massachusetts elected official to step into the ring with Donald Trump.
After the two traded a series of jabs over the weekend, Trump referred to the Massachusetts senator as "the Indian," during a press conference Monday when asked about Warren's searing posts on social media earlier in the day.
"Elizabeth Warren today on social media went after you, calling you a loser," a reporter began. "How are you going to…"
"Who is that, the Indian?" Trump interjected. "Do you mean the Indian?"
After the reporter finished her question, Trump boasted about the number of people who had voted for him and the effect his candidacy has had on turnout in the Republican primaries. He then called for unity in American politics, decrying the state of the country's budget, foreign policy, health care, and education system.
"The problem with the country right now, it's so divided, and people like Elizabeth Warren really have to get their act together because it's going to stay divided," he said, adding that Hillary Clinton, himself, and "everybody" were also probably complicit in dividing the country.
Warren shot back Monday afternoon on Twitter.
Why is it that @realDonaldTrump can call himself the "unity" candidate while basing his campaign on racism, sexism, xenophobia & hatred?

— Elizabeth Warren (@elizabethforma) March 21, 2016
.@RealDonaldTrump is "cool with being called an authoritarian," isn't upset at Hitler comparisons & thinks we won't fight back? WRONG!

— Elizabeth Warren (@elizabethforma) March 21, 2016
We cannot elect wannabe tyrants to the White House. Not now, not ever. It's up to all of us us to stop @realDonaldTrump .

— Elizabeth Warren (@elizabethforma) March 21, 2016
Monday wasn't the first time Trump has referred to Warren as an "Indian." In a New York Times interview over the weekend, Trump brought up the issue of Warren's heritage, which was used as an attack line during the 2012 campaign by then-Sen. Scott Brown, after it was revealed she claimed minority status as a Native American as a professor. Brown charged that there was no evidence of Warren's Native American roots and argued she used it to get gain a professional advantage.
Warren said she was often told of her Native American ancestry by her parents and over family members while growing up in Oklahoma, but has never provided hard evidence. She also said she never claimed minority status to gain a professional advantage, but instead to connect with people who have Native American heritage.
Despite Brown's efforts to highlight the issue, Massachusetts polls at the time found than voters were not swayed by the issue.