Politics
Why Mitt Romney is voting for Ted Cruz—but not endorsing him
The former Massachusetts governor will do anything to defeat Donald Trump, even bridging his disagreements with Cruz.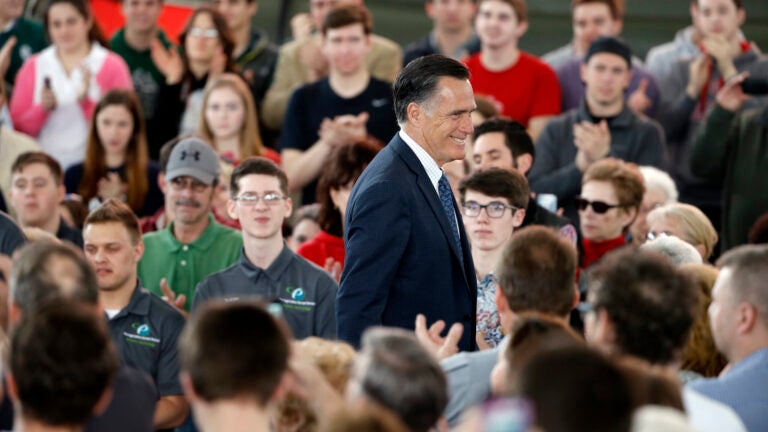 Last Friday, Mitt Romney flipped the tables on John Kasich and announced he would vote for Ted Cruz in Utah's caucuses Tuesday.
Yet the former Republican presidential nominee's vote was not to be confused with an endorsement. In Romney's eyes, Cruz's candidacy represents the best chance Republicans have of denying Trump primary delegates and, ultimately, the nomination by way of a contested convention.
"I like Governor John Kasich. I have campaigned with him. … But a vote for Governor Kasich in future contests makes it extremely likely that Trumpism would prevail," Romney said in a Facebook post last week, pledging his vote for Cruz and urging other Republicans to do the same.
The decision is a testament to just how important stopping Trump is to the former Massachusetts governor.
From Cruz's first year in Washington up until very recently, the public relationship between the two Republicans—Romney the establishment standard-bearer and Cruz the crusading conservative outsider—was increasingly fraught, from subtle jabs to more overt name-calling.
In September 2013, Romney (among many others) decried Cruz's 21-hour "faux-libuster" to hold up government-funding legislation over his opposition to Obamacare.
"You give him credit for bringing attention to a very important issue," Romney told CNN, agreeing with Cruz's ultimate goal. "I have a harder time seeing where a [government] shutdown leads."
In a few days later in a radio interview, Cruz responded: "He is certainly entitled to his views. … I'm much more concerned about listening to the American people than I am about listening to politicians in and around the country."
About a month later, with 2016 speculation already swirling, Romney dissed Cruz, refusing to put the Texan on his list of legitimate presidential candidates.
"Paul Ryan, Jeb Bush, Marco Rubio; I mean, there's a long list of very capable people. But Chris Christie stands out as one of the very strongest lights in the Republican Party," Romney told NBC's David Gregory on Meet the Press.
"Does Ted Cruz stand out to you as a potential light of the Republican Party?" Gregory asked.
Not so much, Romney replied
"Look, I'm not going to disqualify anybody," he said. "But I think I've indicated some of the names that I think are most effective in becoming elected, and we'll see where it goes."
As Cruz's star in the Senate continued to rise, the uncompromising junior senator began to send shots over the bow at Romney and other "establishment moderate" Republican nominees.
"If we run another candidate in the mold of a Bob Dole, or a John McCain, or Mitt Romney, we will end up with the same result, which is millions of people will stay home on Election Day," Cruz said in an October 2014 interview, warning of "irreparable damage" to the country.
"If we run another candidate like that, Hillary Clinton will be president," he said.
At a conservative think tank summit in January 2015, Cruz referred to Romney as the "mushy middle" when asked by reporters about the former Massachusetts governor.
In April, a month into his presidential campaign, Cruz again took a swipe at Romney, noting that the 2012 nominee got "clobbered" for his infamous 47 percent remarks.
"I think Romney is a good man who had a hard campaign," he said. "But I cannot think of a statement in all of politics that I disagree with more strongly."
In his private remarks, Cruz did not relent against Romney. At a May conference with conservative donors and activists, Cruz called Romney was the world's worst person for the GOP to run against Obama in 2012:
"The Republican Party, in its infinite wisdom, sought out and found the one human being on the face of the planet who had designed and implemented a program just like Obamacare. Literally – there are 7 billion people on earth. You could have grabbed any other person and asked them, 'Excuse me, sir, have you designed and implemented Obamacare? No? You're a better candidate!
A few months later, it was Romney's turn to hit back, after Cruz criticized the nuclear deal brokered between the United States and Iran.
"If this deal goes through, the Obama administration will become the leading financier of terrorism against America in the world," Cruz told Fox News, calling aspects of the agreement "shameful" and catastrophic."
"I've heard this referred to before as the 'Jihadist Stimulus Bill,'" the senator added.
In response, Romney tweeted on that Cruz "went over the line" and hurt "the cause."
I am opposed to the Iran deal, but @SenTedCruz is way over the line on the Obama terrorism charge. Hurts the cause.

— Mitt Romney (@MittRomney) July 30, 2015
But Cruz did not back down.
"So Mitt Romney's tweet today said, 'Gosh, this rhetoric is not helpful,'" Cruz said in a July 31 Texas radio interview. "John Adams famously said, 'Facts are stubborn things.' Describing the actual facts is not using rhetoric; it is called speaking the truth."
Cruz said Romney was "clobbered by Barack Obama" in the third 2012 presidential debate was because he failed to use bold rhetoric about terrorism.
"Mitt, I guess listening to his own advice, said, 'Well gosh, I don't want to use any rhetoric. So OK, never mind. I'll just kind of rearrange the pencil on the podium here,'" Cruz said.
But then something changed: Donald Trump happened. And as one of the Republican Party most vocal and adamant anti-Trumpists, Romney softened his comments about Cruz.
In January, with polls showing Trump leading in early-voting states, Romney defended Cruz against the billionaire's implications that Cruz would be ineligible to be president.
.@tedcruz is a "natural born citizen." Obama too. Even George Romney. This isn't the issue you're looking for.

— Mitt Romney (@MittRomney) January 8, 2016
And following Romney's strategic endorsement of voting for Cruz (rather than of Cruz himself) earlier this month, Cruz graciously accepted – even if he had just months prior been one of the GOP's chief Romney critics.
"In my book, when someone says I'm voting for you and I encourage everyone else to vote for you, that's pretty darn good," Cruz told NBC News on Saturday. "And I'll take that—and take that happily."
Maybe Trump really is a unifying force after all.