Politics
Mitt Romney debuted some solid new Donald Trump zingers
Ann Romney might not be happy with one of them.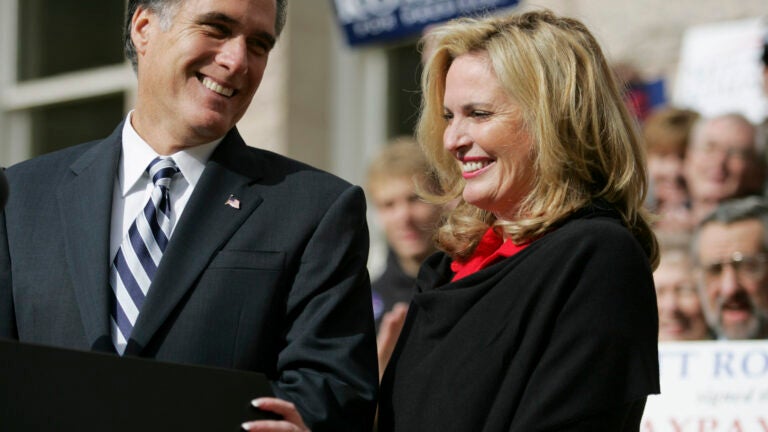 Certainly, no one would confuse Mitt Romney with being a comedian. But on Tuesday night, he debuted two new jokes regarding his feud with Donald Trump that were, dare we say, actually creative.
Romney, who has loudly and publicly denounced Trump in the past few weeks, addressed his ongoing feud with Trump at the National Republican Congressional Committee on Tuesday night. Two jokes stood out.
The first was in response to Trump's questioning of Romney's Mormon religion—"Are we sure he is a Mormon? Are we sure?"—in Salt Lake City last week:
Paul Ryan at @NRCC dinner: Trump has questioned whether you are Mormon. Romney: "All he had to do was ask my wives."

— Kris Hammond (@KrisHammond) March 23, 2016
(The Mormon Church banned the practice of polygamy in 1890.)
Romney also got personal in the second joke by targeting Trump's foreign wives:
Mitt Romney at @NRCC dinner: "Donald Trump has had several foreign wives. It turns out that there are really are jobs Americans won't do."

— Kris Hammond (@KrisHammond) March 23, 2016
Trump's first ex-wife, Ivana, was born in Czechoslovakia, and his current wife, Melania, was born in Slovenia.
Trump has yet to respond to Romney on Twitter, as he usually does. Instead, he tweeted on Tuesday night about Ted Cruz's wife, threatening to "spill the beans" on her.
Lyin' Ted Cruz just used a picture of Melania from a G.Q. shoot in his ad. Be careful, Lyin' Ted, or I will spill the beans on your wife!

— Donald J. Trump (@realDonaldTrump) March 23, 2016