Politics
Massachusetts Rep. Seth Moulton: 'I'm not saying that Donald Trump is necessarily Hitler'
'I'm not saying that.'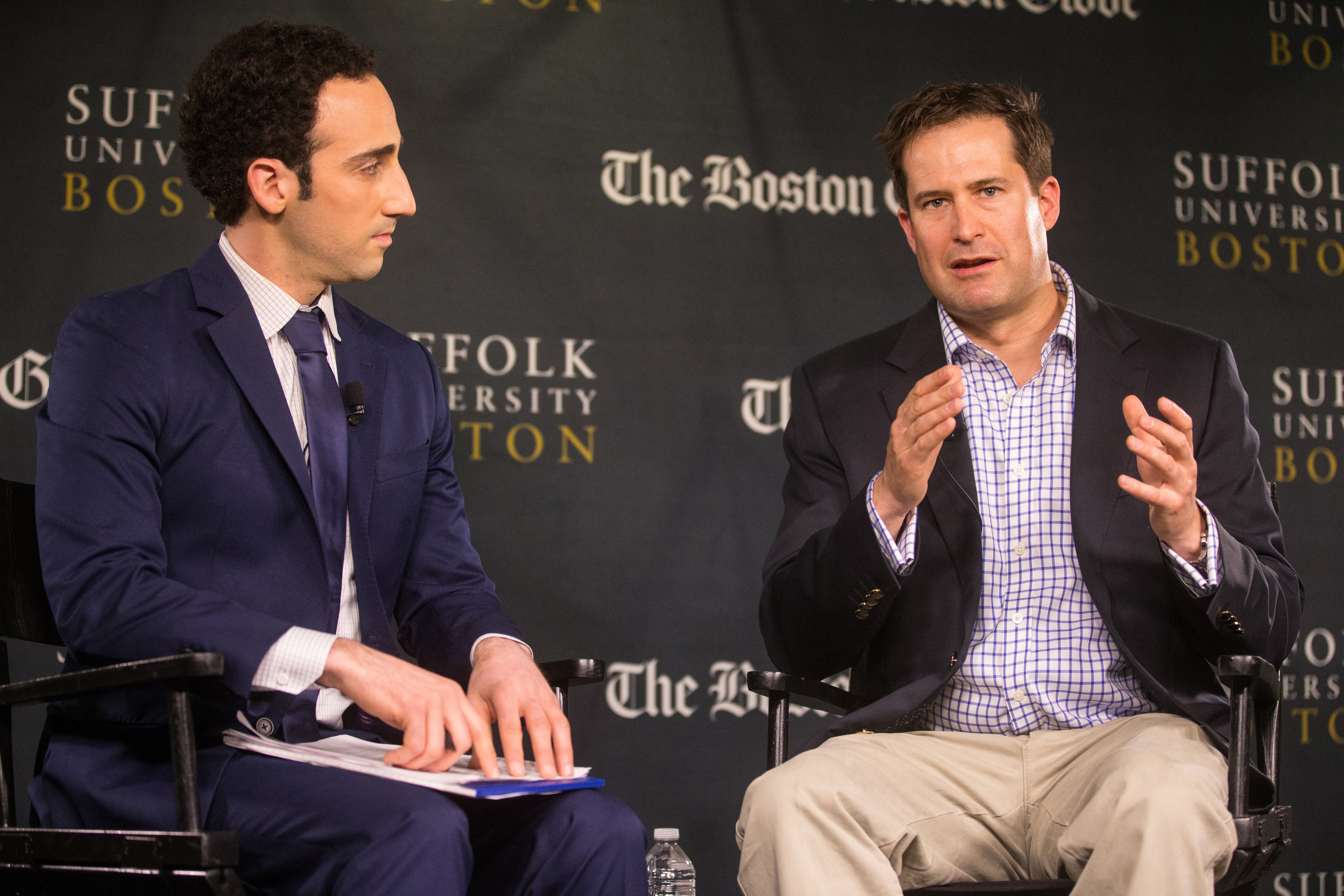 Seth Moulton, the first-term U.S. representative from Massachusett's 6th congressional, is not saying Donald Trump is Adolf Hitler. He's not saying that.
But…
Moulton would like people to take note of how Hitler came to power, in light of the Republican front-runner's own rise, he said Tuesday on The Boston Globe interview series "Political Happy Hour."
"When you're in politics, one of the cardinal rules is that you never say what I'm about to say," the North Shore Democrat said Tuesday a, a nod to Godwin's law, the infamous adage that every discussion ultimately leads to a Hitler comparison.
"But people should read the history of how Germany elected Hitler," Moulton said. "Read that history and just try to understand the analogies. I think that's important at this time."
Following Sen. Elizabeth Warren's recent criticisms, Moulton is not the first Bay State Democrat to draw historic comparisons to Trump's presidential campaign.
"I'm not saying Donald Trump is necessarily Hitler," he continued. "I'm not saying that. But you ought to understand how an unbelievably educated society can elect a demagogue and how bad it can get as a result."
Asked by Globe reporter Joshua Miller to elaborate, Moulton referred to a Slate article this month that dug up a 1922 New York Times article, which reported Hitler's antisemitism wasn't as bad as it seemed and that he was only using such rhetoric to keep supporters enthusiastic. From the 1922 article:
Some political journalists and Trump supporters have suggested the Republican candidate is using hard-line rhetoric on immigration and torture to play to the base, regardless of his own beliefs.
"For several million reasons, the comparison to Hitler is a pretty inflammatory one," Miller pushed back on Moulton. "I'm curious if you think if he were elected president, he would be capable of doing the same kinds that Adolf Hitler did."
"I don't know him," the congressman replied. "I don't know if he would be, but he's certainly talked about carpet bombing the Middle East. That's his approach to ISIS, which by the way is just fundamentally stupid. He obviously has no idea how to fight terrorism."
Moulton, a few years after graduating from Harvard University in 2001, joined the Marine Corps and served four tours in Iraq from 2003 to 2008.
"[Trump's] ideas are not only radical, ridiculous, and immoral, they're also really stupid," Moulton added to hammer home the point.