Politics
Donald Trump defends campaign manager: 'How do you know those bruises weren't there before?'
Campaign manager Corey Lewandowski, a Lowell native, faces a simple battery charge.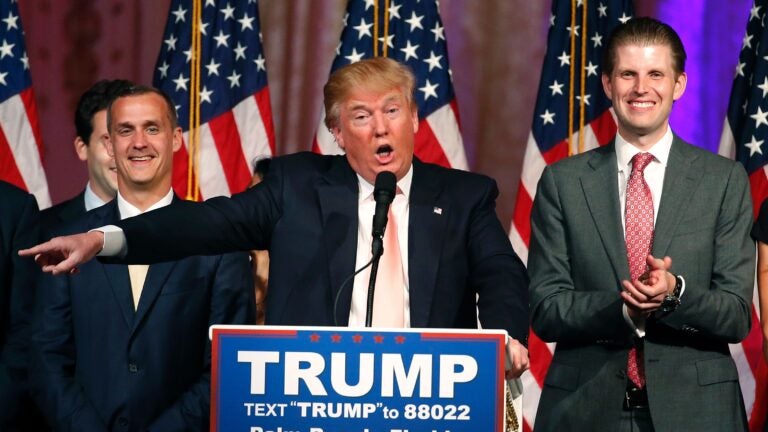 Donald Trump says he is "sticking up for" his campaign manager, Corey Lewandowski, who was charged with simple battery Tuesday for grabbing a female reporter.
Speaking at length with reporters Tuesday afternoon on his plane, the Republican candidate said the charge facing the Lowell native is "very, very unfair."
"I told him, I said 'You should never settle this case; you should go all the way,'" Trump said, repeatedly adding that former Breitbart News reporter Michelle Fields was actually grabbing him following a press conference earlier this month.
"If you look at that tape, he was very, very, seriously maligned, " Trump said, referring to newly released security footage of the incident.
Trump said Lewandowski was "acting as an intermediary" between Fields and himself. The Republican candidate also said the charges were overblown.
"You take a look at her initial statement," Trump said. "It sounded like she got thrown out of a building."
In her original first-person account, the 28-year-old reporter wrote:
I was jolted backwards. Someone had grabbed me tightly by the arm and yanked me down. I almost fell to the ground, but was able to maintain my balance.
On Tuesday, Fields tweeted that her story has "never changed."
"She did get bruises on her arm," a reporter on the plane said Tuesday, pushing Trump on his suggestions that Fields had lightened her description of the incident since security footage became available.
"How do you know those bruises weren't there before?" Trump asked. "I don't know what the police said. How do you know those bruises weren't there before. I'm not a lawyer. But she said she had a bruise on her arm. I mean, to me, wouldn't you think that she would've yelled out a scream or something if she has bruises on her arm?"
Shortly after the incident, Fields tweeted a photo showing what appeared to be bruises on her forearm, where she said Lewandowski grabbed her.
I guess these just magically appeared on me @CLewandowski_ @realDonaldTrump. So weird. pic.twitter.com/oD8c4D7tw3

— Michelle Fields (@MichelleFields) March 10, 2016
Security footage from Trump National, released Tuesday, shows Lewandowski reaching out and pulling Fields away from Trump following a March 8 press conference at the Republican candidate's Jupiter, Florida golf club.
A 41-year-old Lowell native and UMass Lowell graduate, Lewandowski initially dismissed the accusations. He tweeted that he "never touched" Fields and called the former Breitbart News reporter "totally delusional."
According to a campaign statement Tuesday, Lewandowski is "absolutely innocent" and will plead not guilty.
A spokeswoman for the Trump campaign told CNN on Tuesday that Lewandowski will "absolutely" keep his job.