Politics
A look back at the madness of the New Hampshire primary, 50 days later
The Granite State's top primary expert reflects on a primary season that was crazy on multiple levels.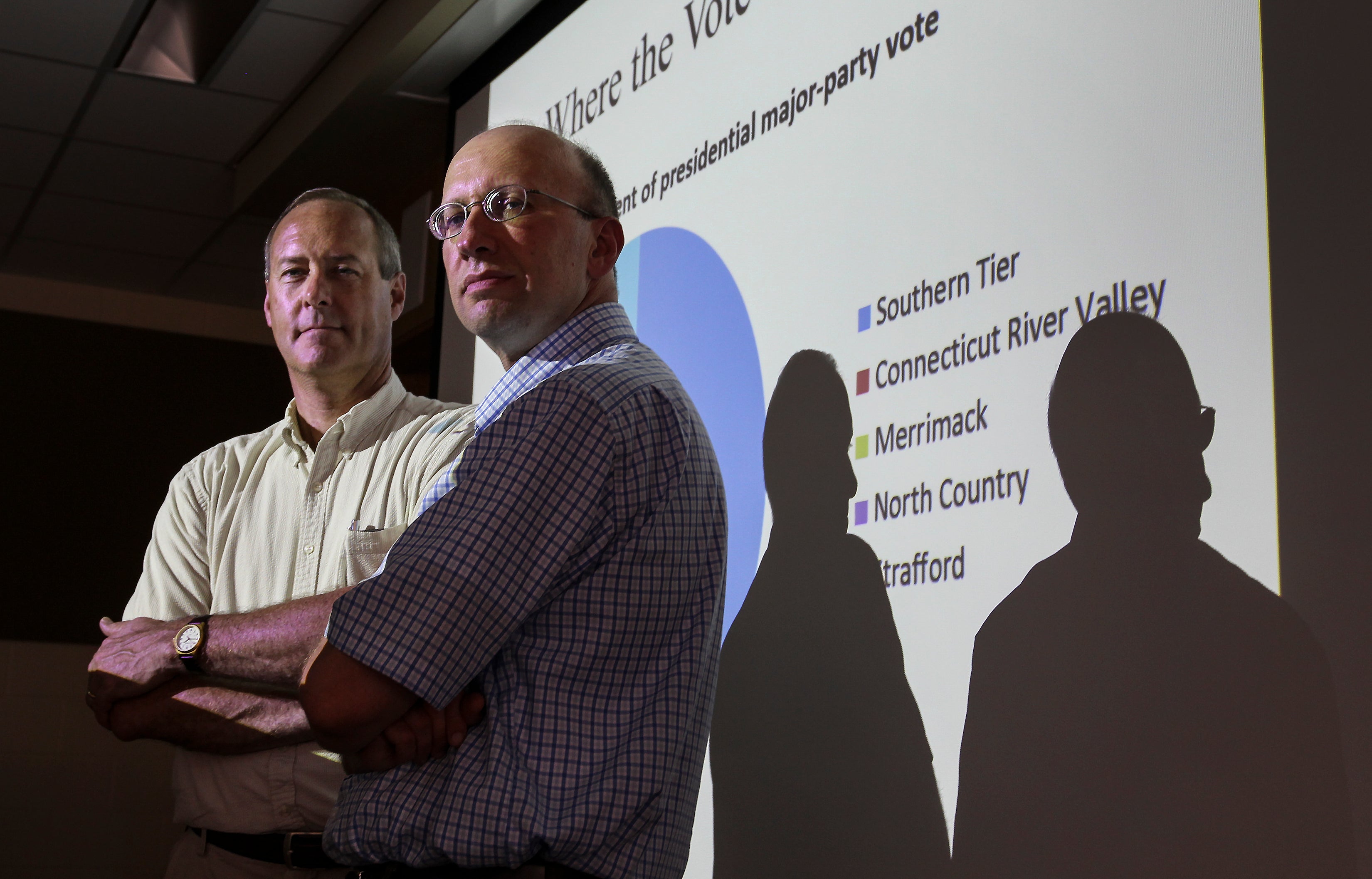 With the New Hampshire primary 50 days into the past, Dante Scala's smartphone is getting some well deserved rest.
"The storm has passed," the University of New Hampshire  professor said.
Scala began teaching political science in New Hampshire in 1999 and last fall led an online course on the state's first-in-the-nation primary with fellow UNH professor Andy Smith. So for the scores of international, national, and regional reporters descending upon the Granite State during the last few months, looking for some local insight, Scala's number was one of the first calls.
"It certainly picked up in the month of January, but it really became white hot the day after Iowa," he said.
Asked to give a ballpark number of the interview requests he got in the week before the February 9 primary, Scala replied, "I'd say around 100."
"I was in a situation at times when someone would call or email or leave a voicemail, and by the time I finished talking to that person, I might have two more requests," he said, adding that from the Thursday prior to voting day the primary had taken over his academic schedule.
Of course, on primary day itself, Scala says he had to get someone to cover his class.
"I'm not complaining about it, don't get me wrong," Scala said. "But keeping things scheduled was a task, because people would contact me on Thursday to talk Sunday, or Friday to talk Monday. So you're trying to deal with that, in addition to people who want to do an interview right now."
Everybody gets their 15 seconds, but in New Hampshire, you get your 15 seconds in that week of February
One helpful thing, in a state where the population is largely concentrated in the southeast, was that it was not hard to be in the center of the madness. Given the right reservation, one didn't even have to leave their hotel.
"It was helpful that everyone was stationed out of Manchester at the Radisson Hotel, so it was easy for me to get from one thing to another," he said.
For a week, much of the media universe—MSNBC, for example, which posted up in the hotel bar for a week of live TV shows—was working out of the 12-story downtown hotel.
"You could really sit in the lobby there and if you were thinking 'Is that such-and-such?' It probably was," Scala said. "Everybody gets their 15 seconds, but in New Hampshire, you get your 15 seconds in that week of February or January."
Looking back at the primary itself, Scala notes one huge takeaway.
"On the Republican side, the handwriting was on the wall all along," he said, referring to the months of polls showing Donald Trump blowing out the rest of the field in the state.
"A lot of us, including myself, looked at it and said 'No, that won't happen. He'll fizzle, he'll fade, things will change,'" he added.
Trump, of course, won New Hampshire by nearly 20 points, as voters shattered the Republican primary turnout record by more than 35,000 votes, or over 14 percent.
"My thought a month before was will they really be there when it matters?" he said. "And they sure were. They sure were. That was a lesson."
Scala says the New Hampshire results set the tone for the race on the Republican side. Bolstered by a wide, committed base of support, Trump continued to pile on delegates in state after state.
Florida Sen. Marco Rubio had broad appeal among Republicans, but never picked up traction, following his pre-New Hampshire primary debate meltdown.
"He couldn't convert enough of those voters from 'Yeah I like Marco Rubio' to 'Yeah, I'll vote for him,'" Scala said. "And that turned out to be a perennial problem for him."
Ohio Gov. John Kasich did well among moderate Republicans who weren't voting for Trump, following his second-place finish in New Hampshire with strong showings in Massachusetts, Michigan, and Vermont, and a win in his home state. However, as in those states, other than Ohio, that base has not provided enough votes to lift Kasich above the Trump wave.
Scala also noted that Ted Cruz, who is depending on the support of evangelical voters to carry him to the Oval Office, couldn't count on the same base in New Hampshire that gave him a win in Iowa.
"He wasn't able to increase his base beyond religious conservatives," Scala said, "and that's still a problem for him."
As anti-Trump forces in the Republican Party line up behind Cruz, Scala said there may be difficult terrain ahead for the Texas senator, as the primary schedule shifts back toward the coasts.
"I do think the Northeastern states will be difficult for Ted Cruz to get significant traction," he said. "John Kasich, maybe, but he's got other sorts of problems — a resource problem in particular. I mean as Massachsuetts and New Hampshire went, I think there's good reason for Trump to be optimistic about New York, New Jersey, Pennsylvania, how they all might go."
Scala says the interview requests, which dropped off within 36 hours of Primary Day, have started to focus more and more on the election in November.
And though it's too soon to say for sure, Scala says he and Smith could definitely teach their New Hampshire primary class next cycle—albeit with at least one new lesson.
"I think Trump's success is going to give political scientists a lot to chew over for years to come," he said. "So I think that'll certainly be something would be discussed in 2019, and probably 2039, for that matter. Probably the rest of my career."