Politics
New Hampshire's Kelly Ayotte will be the third Republican senator to meet with Supreme Court nominee
Granite State Democrats say the meeting "means nothing."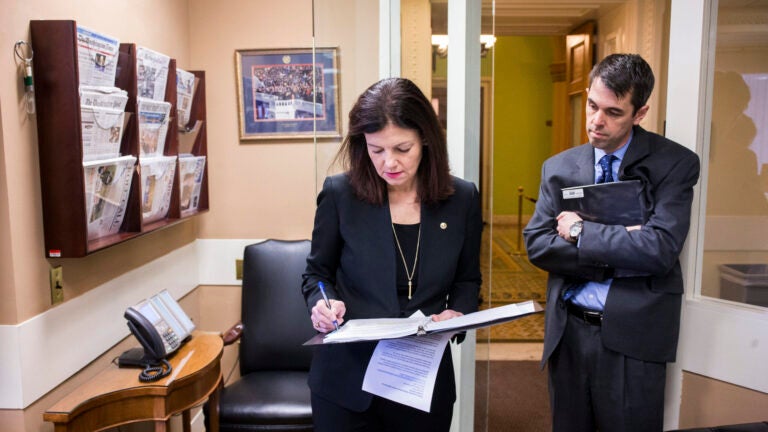 Sen. Kelly Ayotte announced Monday she will meet with Supreme Court nominee Judge Merrick Garland next Wednesday. But the New Hampshire Republican is not retreating from her position that the Senate should not hold a confirmation vote until after a new president is elected in November.
"I will meet with the president's nominee out of courtesy and respect, and I also plan to explain my view that the people should have a voice in this important nomination through their votes in November," Ayotte said in a statement.
Asked to clarify whether the senator's position is that a confirmation vote should not be held until after the November election or until after a new president and Senate class are inaugurated in January, Ayotte spokeswoman Liz Johnson told Boston.com, "she believes the process should wait until the people have spoken in the election."
Ayotte, who is facing a tough re-election contest against New Hampshire Gov. Maggie Hassan, is the third GOP senator to agree to meet with Garland; Maine Sen. Susan Collins and Arkansas Sen. John Boozman are scheduled to meet with him Tuesday.
The New Hampshire Democratic Party was quick to put out a statement Monday that Ayotte's meeting next week "means nothing."
"She still intends to block the consideration of his nomination to the Supreme Court in a move that is wildly unpopular with New Hampshire voters who see through her meaningless political spin," NHDP Press Secretary Melissa Miller said Monday.
Both the NHDP and Hassan have tried to make the Republican senator's calls to delay a confirmation vote a wedge issue in the election.
In response, Ayottes' campaign manager, Jon Kohan, noted Vice President Joe Biden's speech in 1992, arguing the Senate should delay confirming a Supreme Court nominee from George Bush, if a vacancy was to arise, until after the election season had passed.
"Kelly believes that in the midst of a consequential election the voters deserve the right to weigh in on an appointment of such magnitude—a position that even Vice President Biden and other Democrats have taken in the past," Kohan told Boston.com on Monday.
"Kelly will continue to stand up for the people of New Hampshire," Kohan added, "unlike Governor Hassan who is doing the bidding of Harry Reid and Washington Democrats who are flooding the airwaves right now with attack ads on her behalf."
According to OpenSecrets.org, the biggest outsider spender so far in the New Hampshire race is Senate Majority PAC, a Democratic super PAC, which employs at least two former Reid staffers.
Out of the more than $3 million in outside money funneled into the critical Senate race so far, more than $1.6 million has been spent against Ayotte, while nearly $1.4 million has been spent in support of the Republican. Out of the $228,000 in third-party expenditures on Hassan, $215,000 has been against the Democratic governor.
[Update: Miller reached out on behalf of the NHDP to point out that when "issue ads" are included, the conservative group One Nation PAC—which spent a reported $2.85 million in pro-Ayotte ads, including a recent $1.1 million ad buy highlighting the senator's efforts to address the heroin crisis—is the biggest spender in the race.
As the Sunlight Foundation notes, issue ads by so-called "dark money" third-party groups are not disclosed with the Federal Election Commission.]
Meanwhile, New Hampshire's other senator, Jeanne Shaheen, is scheduled to meet with Garland on Tuesday. Last week, Shaheen, a Democrat, called for her GOP colleagues to hold a hearing and a vote of Garland's confirmation.
"I have not had a direct conversation with Senator Ayotte, but I have been clear from the beginning," Shaheen said, adding that her calls to hold a confirmation vote "are aimed at everybody who is refusing to consider this nominee in an election year."