Politics
Mayor Walsh supports gradual move to $15 minimum wage
But two major state leaders are more hesitant.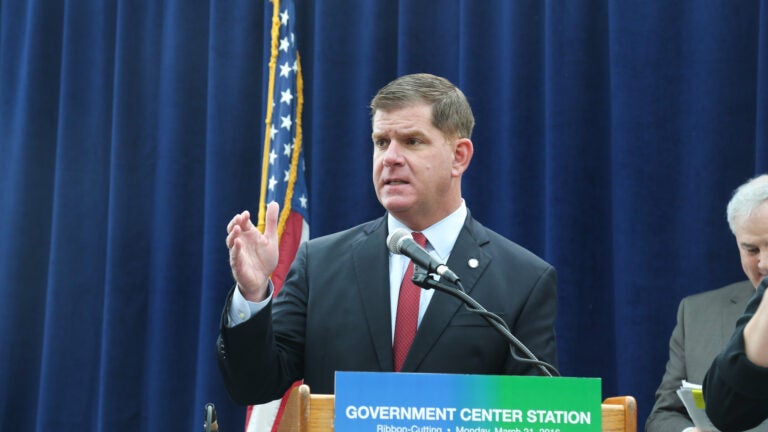 Boston Mayor Marty Walsh threw his support behind a gradual increase in the minimum wage from $10 up to $15 an hour for the city and for the state of Massachusetts, he said on Monday.
"When you look at the disparities, and income inequality, and what's happening, I think it's important for us to work on the issue," Walsh said. "And the way we work on the issue is by increasing the minimum wage over a period of time."
Under Gov. Deval Patrick, Massachusetts passed an increase that bumped the minimum wage to $10 an hour on January 1 of this year and will push it to $11 an hour at the beginning of 2017.
But legislators in California and New York just passed laws that will push the minimum wage to $15 over several years, creating a new bar for progressive politicians.
"Mayor Walsh supports raising the minimum wage to $15 in Boston and across Massachusetts," Walsh spokeswoman Bonnie McGilpin said in an email.
Walsh's statement thrusts the Democratic mayor into a debate that has largely been conducted at the state level. Both House Speaker Robert DeLeo, a Democrat, and Gov. Charlie Baker, a Republican, have said it's too early to consider another wage boost before the scheduled increases kick in.
"I think it's premature for us now to talk about any changes," DeLeo said.
But Senate President Stan Rosenberg said legislators were privately discussing the issue and appeared "bullish" on its possibility, the AP reports.
"I support a living wage, and we need to keep moving," Rosenberg said. "Income inequality is rampant in this country. Massachusetts is among the most significantly unequal between the top earners and the lowest."
Walsh suggested to The Boston Globe that any increase should be passed state-wide given "the way we look at economic development regionally," he said.
Walsh's office is already convening a committee of local leaders to analyze the potential challenges and benefits of a $15 minimum wage. Walsh hopes to receive the recommendation of that committee by the end of 2016, McGilpin said.
https://www.facebook.com/VoteMartyWalsh/posts/1054431291297055