Politics
General Electric CEO has had enough of Bernie Sanders's 'cheap shots'
"We've never been a big hit with socialists," CEO Jeffrey Immelt writes.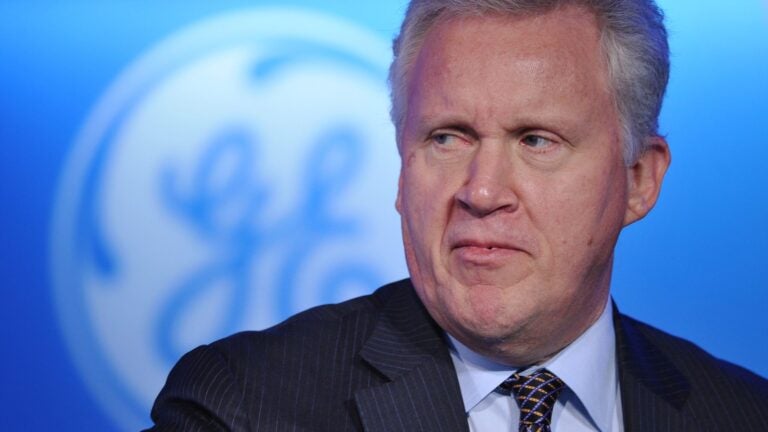 The CEO of General Electric was not pleased with Bernie Sanders's criticisms of the company, writing in The Washington Post that the Vermont senator was lying, making hollow campaign promises, and "missing the point" by criticizing GE's morality.
"GE has been in business for 124 years, and we've never been a big hit with socialists," CEO Jeffrey R. Immelt writes. "We create wealth and jobs, instead of just calling for them in speeches."
The testy opinion piece came in response to Sanders's comments to the New York Daily News last week, in which the Democratic Socialist said GE was one of the companies "destroying the moral fabric of America."
"General Electric was created in this country by American workers and American consumers. What we have seen over the many years is shutting down of many major plants in this country. Sending jobs to low-wage countries. And General Electric, doing a very good job avoiding the taxes. In fact, in a given year, they pay nothing in taxes. That's greed.

"That is greed and that's selfishness. That is lack of respect for the people of this country."
In his response, Immelt pointed to GE's aviation plant in Rutland, Vermont, which employs more than 1,000 people.
"The senator has never bothered to stop by our aviation plant in Rutland, Vt.," Immelt writes. "It's a picture of first-rate jobs with high wages, advanced manufacturing in a vital industry — how things look when American workers are competing and winning — and Vermont's junior senator is always welcome to come by for a tour."
Immelt also rejected Sanders's oft-repeated assertion that GE does not pay taxes.
"Repeating a lie over and over does not make it true. We pay billions in taxes, including federal, state and local taxes," he writes.
Toward the end of the article, Immelt ends with a more direct rejection of Sanders as empty rhetoric.
"It's easy to make hollow campaign promises and take cheap shots in speeches and during editorial board sessions, but U.S. companies have to deliver for their employees, customers and shareholders every day," Immelt writes. "I'm proud of all that we do, and how it all figures into 'the moral fabric' of America is so plain to me. It seems Sen. Sanders is missing the point."