Politics
So Hillary Clinton rode the subway today? Big deal, Michael Dukakis rode the T all the time
Taking the T was an everyday occurrence for the former presidential candidate.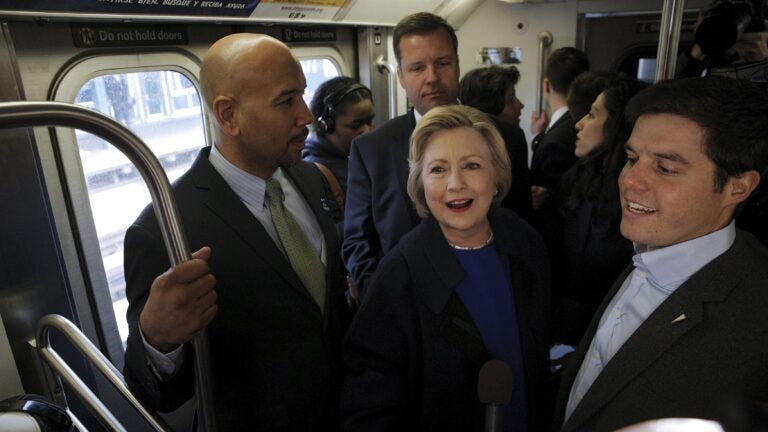 Hillary Clinton went underground Thursday morning, briefly joining the legions of commuters on the New York City Subway.
Clinton rode on the 4 train for one stop, from Yankee Stadium at 167th street to 170th street in the Bronx, according to ABC News.
The ride didn't smart in the smoothest fashion, as Clinton needed to swipe her MetroCard five times to get through the fare gate.
Clinton's ride was a clear message to New York voters ahead of the state's presidential primaries April 19, as well as a slight dig at rival Bernie Sanders, who, after telling the New York Daily News that he had ridden the subway a year ago, said "You get a token and you get on" when asked how one pays for the train.
But Clinton's photo-op ridership pales in comparison to another former Presidential candidate: Michael Dukakis.
The Duke was known for riding the T every day while serving as Governor of Massachusetts. Even in old age, he still rides the subway, and encourages elected officials, like Governor Charlie Baker, to stay connected with people by riding the rails.
"There was nothing hokey about it. I've been riding the T since I was 5. But it doesn't hurt to have a chief executive who's on it,'' Dukakis told the Boston Herald in December. "I learned more about the T and my own administration riding the T than I did in the State House.''
Even in the '80s, the commuting habits of the self-professed "rail romantic" were noteworthy. "I'm on board two or three days a week," he told the Christian Science Monitor in 1984, adding that it gave him "a chance to meet folks I otherwise would not meet."
A presidential candidate hardly needs to ride the subway every day to stay in touch with their constituents.
But in The Duke's case, it certainly didn't hurt.