Politics
Cruz picks up all delegates in Colo.; Sanders win in Wyo.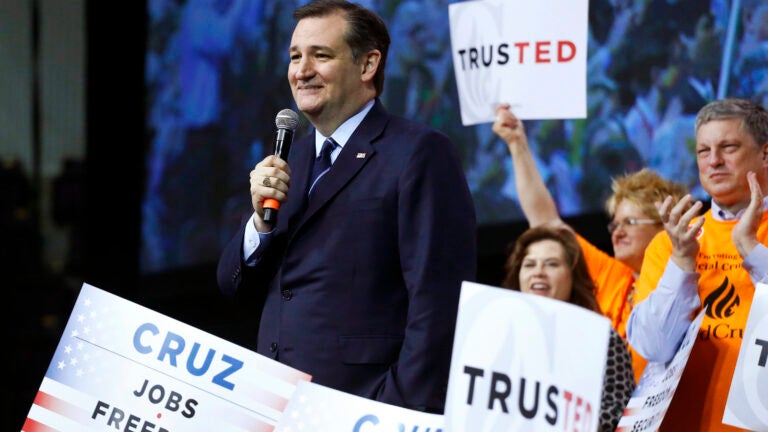 COLORADO SPRINGS, Colo. (AP) — Ted Cruz completed his sweep of Colorado's 34 delegates on Saturday while rival Donald Trump angled for favor a half-continent away in New York's all-important April 19 primary. On the Democratic side, Bernie Sanders picked up another win in Wyoming — but it did nothing to help him gain ground in the delegate chase.
Cruz netted 13 more delegates at Colorado's state GOP convention. The Texas Senator already had locked up the support of 21 Colorado delegates and visited the state to try to pad his numbers there.
Keeping up his tussle with Trump over values, Cruz told the Colorado crowd earlier that it's easy to talk about making America great again — "you can even print that on a baseball cap" — but that the more important question is which candidate understands "the principles and values that made America great in the first place."
In an appearance before Jewish Republicans in Las Vegas later that day, Cruz warned of a "bloodbath" for the GOP if Trump were the nominee and said control of Congress and the balance of the Supreme Court could be at risk.
Cruz's sweep increases the chances of a contested Republican convention this summer. Trump still has a narrow path to clinching the GOP nomination by the end of the primaries on June 7, but he has little room for error. He would need to win nearly 60 percent of all the remaining delegates to clinch the nomination before the convention. So far, he's winning 46 percent.
Following the Colorado results, the Associated Press count stands at Trump 743, Cruz 545, and John Kasich 143. Marco Rubio, who suspended his campaign, has 171 delegates. To clinch the nomination by the end of the primaries, a GOP candidate needs 1,237 delegates.
Trump left the Colorado convention to his organizers, and spent about a half-hour on Saturday touring the National Sept. 11 Memorial and Museum in lower Manhattan. His campaign issued a statement describing the site as "symbolic of the strength of our country, and in particular New Yorkers, who have done such an incredible job rebuilding that devastated section of our city."
"This is what 'New York values' are really all about," it added, a not-too-veiled poke at Cruz, who has taken heat for his earlier criticism of "New York values."
Democratic presidential hopefuls, too, were focused on New York's big trove of delegates even as Wyoming gave its nod to Sanders over Hillary Clinton.
Sanders got word of his Wyoming win from his wife, Jane, midway through a rally in Queens, part of a four-stop swing through New York City. A raucous cheer went up from the New Yorkers, but the Wyoming vote was a draw from a delegate perspective: Sanders and Clinton each picked up seven.
That means Clinton has 1,287 delegates based on primaries and caucuses to Sanders' 1,037. When including superdelegates, or party officials who can back any candidate, Clinton has 1,756, or 74 percent of the number needed to clinch the nomination. Sanders has 1,068.
Sanders, who has now won seven of the last eight state contests, called Wyoming "a beautiful, beautiful state," and told reporters the vote there was part of a shift in support in his direction since the campaign left the Deep South.
"Now that we are in the second half of this campaign, we are going to state after state which I think have a more progressive outlook," Sanders said. "We are in this race to win."
Clinton, at an evening rally before a Latino crowd in Brooklyn, found a rare point of agreement with Trump on the matter of New York values.
"I actually think New York values are really good for America," she said, then launched into an argument for electing Democrats to protect the U.S. economy.
"It's a fact that our economy does better when we have a Democrat in the White House," she said.
Earlier in the day, she made a stop at Junior's restaurant in Brooklyn, where she spoke admiringly of the cheesecake — but declined to partake.
She urged New Yorkers to help lock up the Democratic nomination so "we can go after the Republicans full time."
On the Republican side, more than 3,000 people at Colorado's Republican state convention picked the remaining 13 delegates. Cruz supporters sported bright orange T-shirts with his slate of delegates printed on the back.
Trump's organizers distributed a slate that listed incorrect information for four of his candidates. His campaign contended the errors were due to changes to the ballot by the state GOP and did not rule out challenging the results.
The complex Colorado process inherently favored Cruz, the Trump campaign charged, and suspicions among supporters mounted after the results were announced Saturday night. The official Colorado Republican Party account tweeted: "We did it! #NeverTrump." Colorado GOP spokesman Kyle Kohli said the tweet was unauthorized and it was swiftly deleted. The party was investigating who wrote the tweet.
Cruz supporters argued that their candidate didn't just have an organizational edge but that the Texas senator was a better fit with the state's socially conservative, libertarian-minded Republicans. "The Donald Trump caustic politics just doesn't resonate in Colorado," said Tom Peterson, an engineer and delegate from rural Elbert County.
Trump supporters were frustrated by Colorado's arcane process, which involved a series of caucuses at different locations before the convention. "It doesn't seem like a real fair system," said George Rosel, 60, an engineer and Trump supporter who came to the convention from the Denver suburb of Highlands Ranch. "It seems kind of rigged."
Of the 34 delegates Cruz won, only 30 are technically pledged to his campaign; four are party officials who are unpledged but have promised to support Cruz, and the campaign placed them on its slate.
___
Associated Press writers Jill Colvin, Kathleen Ronayne and Rachelle Blidner in New York, and Stephen Ohlemacher and Hope Yen in Washington contributed to this report.
___
This story has been corrected to show that Sanders has won seven of the last eight state contests, not six of the last seven, and that 1,237 delegates are needed to clinch the GOP nomination, not 1,235.