Politics
Boston Globe publishes fake front page of what a Donald Trump presidency would look like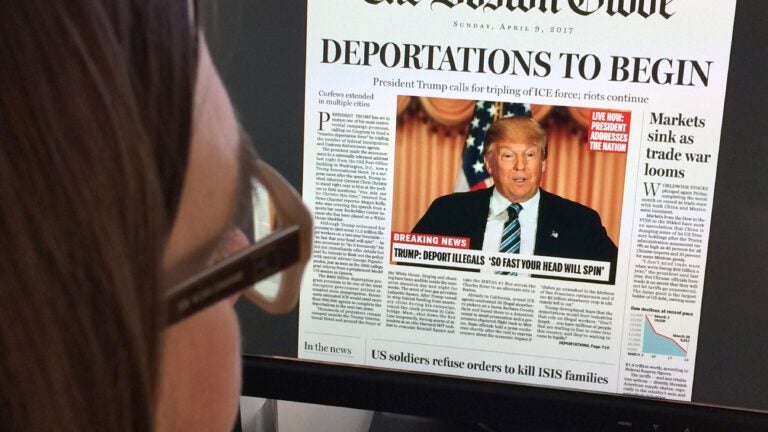 In a warning of the potential "disturbing" future, The Boston Globe featured a parody front page Sunday of the world news under President Donald Trump.
The Ideas section front page projects what life could be like a year from now, if the country elects the Republican candidate. Dated Sunday, April 9, 2017, the top headline reads, "DEPORTATIONS TO BEGIN: President Trump calls for tripling of ICE force, riots continue."
An editor's note in the corner of the page warned it portrayed "what might happen if the GOP front-runner can put his ideas into practice, his words into action."
"Many Americans might find this vision appealing, but the Globe's editorial board finds it deeply troubling," it said. In a video posted on Facebook, the Globe's editorial page deputy manager, Kathleen Kingsbury, described the ramifications of Trump's policy proposals.
Welcome to Trump's America in 2017.

Via Boston Globe Opinion – The front page we hope we never have to print. Welcome to Donald J. Trump's America in 2017. Read more on Globe.com: http://bos.gl/9gyeOYJ

Posted by The Boston Globe on Saturday, April 9, 2016
The page includes dour headlines from a supposed Trump presidency, including "Markets sink as trade war looms," "US soldiers refuse orders to kill ISIS families," and "New libel law targets 'absolute scum' in press."
The faux front page does also include a few humorous nuggets below the fold. For example: "NASA engineers halted the launch of an unmanned probe amid fears that its new gold leaf trim would interfere with radio communications." There's also a tease for a story about the president's romance, "A Trumping to Remember," being pulled from the shelves for plagiarism.
In a longer piece inside the paper, the editorial board notes that Trump's recent loss in the Wisconsin primary makes it less likely he will capture the requisite 1,237 delegates to clinch the nomination before the Republican National Convention.
If that turns out to be the case, according to the Globe, Republicans should work to put forth another candidate, such as former nominee Mitt Romney or House Speaker Paul Ryan, even if it alienates the party's base of Trump supporters.
"The Republican Party's standard deserves to be hoisted by an honorable and decent man, like Romney or Ryan, elected on the convention floor," the editorial board wrote. "It is better to lose with principle than to accept a dangerous deal from a demagogue."