Politics
Charlie Baker calls gay business group's decision not to honor him 'petty and unfortunate'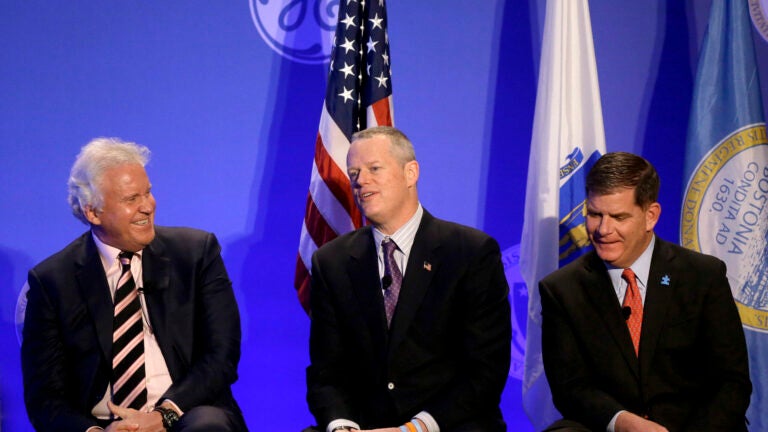 In an interview Friday with The Boston Globe, Gov. Charlie Baker said the decision by a national gay business group to rescind his gala invitation was "petty and unfortunate," while touting his record of seeking and celebrating common ground.
The Massachusetts governor was set to be honored by the National Gay & Lesbian Chamber of Commerce  alongside Rep. Joe Kennedy III at an April 26 dinner in Washington, D.C. Baker, one of few prominent Republicans to support gay marriage, worked previously with the chamber to expand a program that helped minority-owned businesses get access to state contracts.
However, the NGLCC rescinded Baker's invitation Thursday, after Kennedy said he would not attend the event alongside Baker, over the governor's refusal to support a bill that would ban discrimination against transgender people in public places, including restaurants, malls, and restrooms.
In a statement Thursday, Baker said he was "disappointed that some are putting partisan politics ahead of the sound public policy of treating gay and lesbian business owners with dignity and respect."
While the governor said he "look[s] forward to reviewing further proposals should they reach [his] desk," he has refrained from vocally supporting the transgender equality bill.
The NGLCC said the Bay State governor was no longer invited to their event unless he supports the bill, as well as not attend a GOP conference in Las Vegas over the weekend alongside gay rights opponents, such as Ted Cruz and pastor John Hagee.
Lizzy Guyton, Baker's press secretary, confirmed Sunday to Boston.com that the governor, as planned, did attend and give a closed-door speech at the conference Saturday.
In a interview Friday, Baker told the Globe the Las Vegas event was a good opportunity to share his style and brand of governing with other Republicans.
"For me, the opportunity to go talk to a group about the way we think public governance should work — bipartisan, collaborative, and open — that's something, I think, is important for us to say," he said. "Especially in this day and age where so much of our political dialogue is just the opposite."
And while emphasizing the work his administration has put it to "seek common ground and celebrate it where we can," Baker called the decision to have his invitation pulled "petty and unfortunate."
In a joint statement from the NGLCC, the chamber's co-founders, President Justin Nelson and CEO Chance Mitchell, said that while they will not be recognizing Baker, they looked forward to continue working with the governor.
"On the issue of protections in public accommodations for all people, NGLCC will continue to push Governor Baker to bring the same level of proactive leadership he brought to the precedent-setting diverse business inclusion Executive Order we championed together. Our gala was to serve as an opportunity to recognize the Governor for that leadership, and to connect him with other honorees and policymakers focused on increasing opportunities for every American. However, his inclusion on the roster of the event in Las Vegas, coupled with his unwillingness to remove himself from the lineup after we brought our concerns to the attention of his staff, left us with no choice but the decision we made. Sometimes partners disagree, and this is one of those times. While we will not be recognizing Governor Baker later this month, we will continue to work with his administration on the implementation of that historic executive order which will bring significant business opportunities to LGBT-owned business as well as those owned by people with disabilities and veterans."
For his part, Kennedy, who said he would now attend the gala, told reporters he appreciated Baker's work on gay and lesbian rights, but urged the governor to support the transgender equality bill.
"Governor Baker has undoubtedly shown leadership on a number of these issues," Kennedy said, "and I think and I would hope that as he dives into this, and does his research and analysis, that he would come around on it."