Politics
Donald Trump was not particularly pleased with The Boston Globe's fake front page imagining his presidency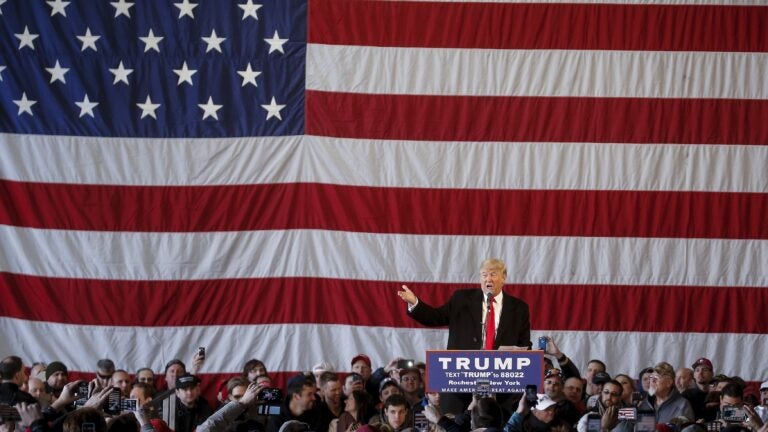 The Sunday edition of The Boston Globe included a parody front page in the paper's Ideas section imagining what the world would be like if Donald Trump is elected president.
Turns out, the Republican candidate did not like being the subject of such parody.
During a rally Sunday in Rochester, New York, Trump inserted a new target into the regular media-bashing segment of his stump speech.
"How about that stupid Boston Globe," Trump said. "It's worthless, sold for a dollar."
The New York Times Company sold the the Globe's parent company to John Henry in 2013 for $70 million, though to be fair it was at a loss compared to the $1.1 billion the company had been bought for two decades earlier.
"Did you see that story?" Trump asked the crowd, referring to the Globe's fake front page Sunday, which featured mock worlds news dated April 9, 2017 under Trump's hypothetical first year in office.
"The whole front page, they made up a story that Trump, they pretended Trump is the president," he said to applause from the crowd.
The faux front page, however, ran as the front of the Ideas section, the part of the paper devoted to opinion pieces. The front page of the actual print Sunday edition featured an article about the words that are most commonly used when people are arrested.
"The whole front page is a make-believe story, which is really no different from the whole paper, the whole thing. I mean the whole thing is made up," Trump continued. "And I think they're having a big backlash on that one."
After repeatedly pointing out that the Times Company sold the Globe at a loss, Trump criticized the paper's satirical stories for being "totally dishonest."
The Globe's editorial page deputy manager, Kathleen Kingsbury, rejected the characterization of the faux front page by some outlets as fake news.
"It's a satire produced by the Editorial Page — this will be clear to readers of the Globe when they get their papers," Kingsbury told CNN on Sunday.