Politics
The Latest: Clinton pokes fun at her subway swipe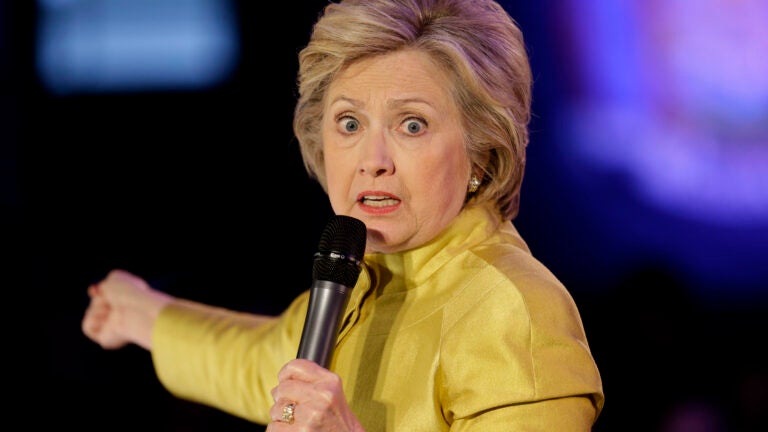 WASHINGTON (AP) — The Latest on the presidential campaign, with the focus Saturday on the delegate hunt for Republicans in Colorado and Democrats in Wyoming, while several candidates campaign in New York, which holds its primary April 19 (all times Eastern Daylight Time):
12:30 a.m.
Hillary Clinton is making fun of her difficulty with the New York City subway in a surprise appearance with the city's mayor.
In a parody show for New York media late Saturday, Clinton asked Mayor Bill de Blasio to fix the MetroCard system after she had to swipe her card five times to enter a subway station earlier this week.
Clinton surprised the audience at "The Inner Circle" show after the mayor rapped his support for "my home girl Hillary" alongside "Hamilton" actor Leslie Odom Jr.
The Democratic presidential candidate thanked de Blasio for his endorsement and joked that it took him "long enough."
Other guests at the annual charity show included actors Michael K. Williams and Felicia Pearson from HBO's "The Wire."
___
11:25 p.m.
Ted Cruz's big delegate victory in Colorado increases the chances of a contested Republican convention this summer.
Front-runner Donald Trump still has a narrow path to clinching the GOP nomination by the end of the primaries on June 7, but he has little room for error.
Trump would need to win nearly 60 percent of all the remaining delegates to clinch the nomination before the convention. So far, he's winning 46 percent.
Following Cruz's sweep of Colorado's remaining delegates on Saturday, the Associated Press count stands at Trump 743, Cruz 545, and John Kasich 143. Marco Rubio, who suspended his campaign, has 171 delegates.
To clinch the nomination by the end of the primaries, a candidate needs 1,237 delegates.
___
10:10 p.m.
Ted Cruz has completed a clean sweep of Colorado delegates to the Republican National Convention by picking up 13 delegates.
Cruz ran the table at the Colorado Republican convention on Saturday in Colorado Springs. He had won all 21 delegates up for grabs at assemblies in the state's seven congressional districts during the week. Saturday's victory gives him a total of 34 delegates in the state.
The front-runner for the GOP nomination, Donald Trump, was late organizing in the state. While shut out of delegates, he did win seven alternate delegates on Saturday.
___
9:30 p.m.
Ted Cruz is saying Donald Trump would trigger a "bloodbath" for Republicans in the general election.
He is trying to persuade a group of Republican donors and Jewish leaders in Las Vegas to support him. Cruz has detoured from next-to-vote New York to speak to the Republican Jewish Coalition, while Trump and John Kasich declined the group's invitations.
The RJC is funded partly by 2012's largest political donor, billionaire Sheldon Adelson, whose casino resort hosted the event.
Cruz also draws a sharp contrast with Trump, reminding attendees that the GOP front-runner had recently said he would remain "neutral" between the Palestinians and Israelis. Crus says that as president, he will not be neutral.
With Trump ahead in delegates, Cruz can likely only win in a contested convention this summer.
___
7:30 p.m.
Hillary Clinton says she needs to "win big" in New York's primary to become the Democratic presidential nominee and "go after Republicans full-time."
Clinton told a rally Saturday in Brooklyn, New York, that she wants to "send a strong message" in the April 19 primary and start unifying the Democratic Party. She says she is 2 1/2 million votes and 220 pledged delegates ahead of rival Bernie Sanders in the race.
Clinton spoke just hours after losing to Sanders in the Wyoming presidential caucus. The loss had no impact on the delegate race since they split the delegates evenly.
Speaking in the loft space in a heavily Hispanic neighborhood, Clinton also reiterated her support for the DREAM Act and a path to citizenship. She criticized Republicans for making anti-immigration statements a "core of their campaign."
___
7:25 p.m.
Campaigning in New York City, Bernie Sanders is invoking his Judaism as a basis for his understanding of racial injustice.
Sanders spoke Saturday at a forum on race and social justice issues at Harlem's Apollo Theater. He says he can remember tears coming down his face when he learned as a child that most of his father's family had been killed in the Holocaust.
He says that knowledge helped him understand that hatred based on the color of someone's skin or accent is "grotesque and awful."
Sanders says he knew from a young age he wanted to spend his life fighting that type of hatred and systemic racism
The Vermont senator rarely talks about being Jewish when campaigning. He told the crowd he finds it "uncomfortable" to talk about himself.
___
6:25 p.m.
Bernie Sanders may have won the Wyoming caucus, but in terms of delegates it was a draw.
Sanders split the state's delegates evenly with Hillary Clinton. Each picked up seven.
Democratic contests award delegates in proportion to the vote, so even the loser gets some. In Wyoming, Sanders' victory with 56 percent of the vote wasn't enough to secure an additional delegate over Clinton.
That means barely a change in the overall delegate count.
To date, Clinton has 1,287 delegates based on primaries and caucuses to Sanders' 1,037.
When including superdelegates, or party officials who can back any candidate, Clinton has 1,756, or 74 percent of the number needed to clinch the nomination. Sanders has 1,068.
___
5:45 p.m.
Bernie Sanders' campaign in New York is getting some help from moviemaker Spike Lee, singer and activist Harry Belafonte and Erica Garner, the daughter of Eric Garner, who was killed by New York police.
Lee has produced a new TV spot that features Belafonte, Garner and other advocates for minorities endorsing Sanders' efforts on behalf of people of color.
Belafonte is quoted as saying "People of color have a deeply vested interest in what Bernie Sanders brings to us in this election."
Garner continues the thought by adding, "people like Michael Brown, Sandra Bland and my father, Eric Garner."
Hillary Clinton has been drawing lopsided support from minorities in the Democratic primaries and caucuses, and Sanders is trying to reverse that trend.
___
4:55 p.m.
Vermont Sen. Bernie Sanders' wife interrupted his remarks at a campaign rally in New York with news of his latest victory: Wyoming.
Sanders quickly relayed the word to the crowd of several hundred people, and after a standing ovation, he joked that there are probably more people at his event than live in Wyoming.
He picked up at least seven of the state's 14 delegates to Hillary Clinton's six. One delegate remains to be assigned, pending a final vote tally.
The victory on Saturday means Sanders has now won 16 states, compared to Clinton's 18. But it will do little to change the overall delegate count, which Clinton leads by a large margin.
To date, Clinton has 1,286 delegates based on primaries and caucuses to Sanders' 1,037.
___
4:45 p.m.
Bernie Sanders' win in Wyoming isn't yielding much in delegates.
With just 14 delegates, Wyoming has the fewest pledged delegates to offer among the 50 states.
Sanders prevailed in caucus voting Saturday, and has now won 16 states to Clinton's 18.
He picked up at least seven delegates to Clinton's six. One delegate remains to be allocated, pending the final vote tally.
That means little change to the overall delegate count, in which Clinton leads by a large margin.
To date, Clinton has 1,286 delegates based on primaries and caucuses to Sanders' 1,037.
When including superdelegates, or party officials who can back any candidate, Clinton has amassed even more delegates, 1,755 compared to 1,068 for Sanders.
Sanders still needs to win 68 percent of the remaining delegates and uncommitted superdelegates if he hopes to take the Democratic nomination. It takes 2,383 to win.
___
4:35 p.m.
Put Wyoming in the victory column for Democratic presidential candidate Bernie Sanders.
Sanders won the state's caucuses over Hillary Clinton, but the win isn't likely to help him make up much ground against in the delegate race that will decide nomination.
Wyoming awards just 14 delegates overall, and before Saturday's results, Clinton held a commanding lead of more than 200 pledged delegates.
Her edge over Sanders is even greater when you count the party insiders who are known as superdelegates.
Sanders has dominated in states where Democrats make their presidential preference choice in a caucus — but there are only a few caucuses left on the election calendar.
Most of the states still to vote will hold primaries — contests where Clinton has generally performed better.
___
3:50 p.m.
Ted Cruz says there's no room for subtlety in politics — and his team is making that clear at Colorado's Republican state convention.
Cruz's supporters in Colorado Springs are wearing bright orange T-shirts — with his slate of desired delegates printed on the back.
That's in contrast to Donald Trump, who skipped the convention to remain in his home state of New York, which holds its primary April 19.
Trump's organizers in Colorado distributed a slate that included incorrect information for four of his desired delegates.
___
2:15 p.m.
Maximum bickering between the Democrats over the minimum wage.
Bernie Sanders says it's "amusing" to see Hillary Clinton join New York's governor in celebrating a bill raising the state's minimum wage to $15 an hour because — as Sanders notes — Clinton supports increasing the federal minimum wage to $12.
But she does back Senate legislation that would give cities and states the ability to set a higher threshold.
Sanders made the comment during the first of four stops Saturday in New York City. The state's primary is April 19.
After recently questioning Clinton's qualifications to be president, Sanders is sticking largely to the issues — the minimum wage, Social Security, campaign financing.
Sanders wants Clinton to make her position on Social Security clearer.
She says she'll preserve the program by asking the wealthy to pay more.
Sander says he'd lift the cap on taxable income to ensure the wealthy are contributing more and he promises to expand benefits.
___
12:45 p.m.
Donald Trump has visited the National Sept. 11 Memorial and Museum in Lower Manhattan.
The Republican presidential front-runner arrived shortly after noon and spent about 30 minutes touring the museum.
He left without speaking to members of the media who were invited along for the visit by the campaign.
Trump has criticized rival Ted Cruz for comments that Cruz made at a GOP debate criticizing New York values.
In defending his home city, Trump has pointed to New York's response to the Sept. 11 attacks.