Politics
Donald Trump's kids failed to register to vote in the primary
Typical millennials.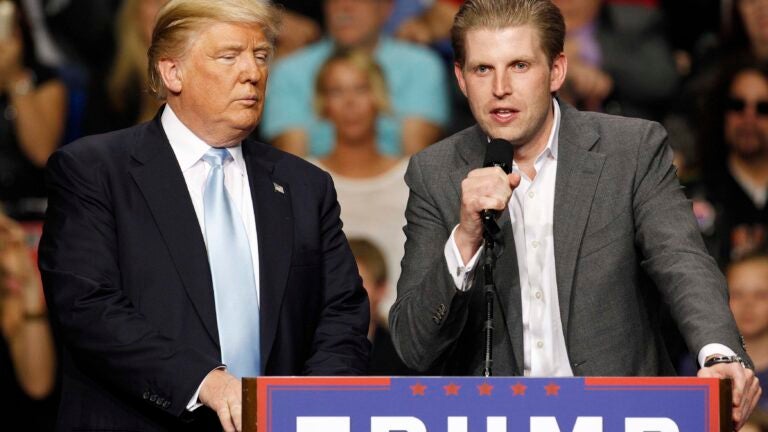 Donald Trump may be favored to win a majority in New York's Republican primary next week, but he won't receive the votes of two people closest to him.
That's because his daughter Ivanka and his son Eric didn't register to vote as Republicans in the Empire State in time.
New York has a "closed" primary, which means only registered Republicans can vote in the Republican primary. The deadline to register as a Republican there was last October. However, Eric and Ivanka Trump were not enrolled in a political party, and did not join the Republican party before that deadline, Yahoo News reports.
In an interview with Fox News on Monday morning, Trump was asked about the mix-up, and if New York state's voter registration rules were "unfair."
"There are two New Yorkers who won't be able to vote for you or Ted Cruz. Ivanka and Eric Trump unable to register because of the rules," the host asked. "Are the rules of New York unfair as well?"
"No. They had a long time to register and they were, you know, unaware of the rules, and they didn't register in time," Trump said. "So they feel very, very guilty. They feel very guilty."
In early polls, Trump has received just above 50 percent of the vote among New York Republicans, and he didn't sound too worried about losing a couple of votes.
"But it's fine. I mean I understand that," Trump said. "I think they have to register a year in advance and they didn't. So Eric and Ivanka, I guess, won't be voting."
"Are you cutting off their allowance?" Fox News asked.
"Yes. No more allowance," Trump said.
(The relevant part begins at 10:35 in the video below.)
The Trump progeny won't be totally voteless, though. Donald Trump, Jr., a registered Republican, represents the lone vote of Trump's three politically prominent adult children. Tiffany Trump, 22, has not been as prominent in the campaign, and Barron Trump, 10, is too young to vote.