Politics
Barney Frank has a lengthy history of hating on Bernie Sanders
The retired Massachusetts lawmaker has been criticizing Sanders for a quarter-century.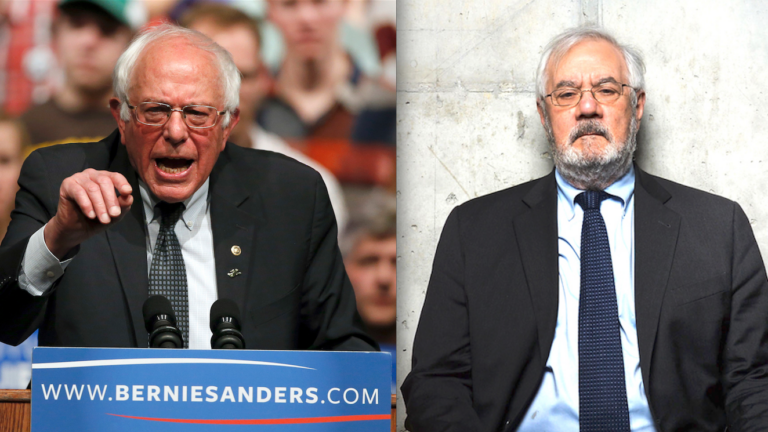 Barney Frank, the wisecracking former Massachusetts congressman, has taken to criticizing Bernie Sanders and his supporters in increasingly harsh terms recently.
"Bernie Sanders has been in Congress for 25 years with little to show for it in terms of his accomplishments, and that's because of the role he stakes out," Frank said in an interview with Slate.
Frank, like most former and current Democratic politicians, supports Hillary Clinton for the 2016 presidential nomination. But his distaste for Sanders is not new. It stretches back a quarter-century.
Ever since Sanders joined the House of Representatives in 1991, Frank has consistently and publicly slammed the Vermonter as personally abrasive, uninterested in compromise, and overly critical of would-be allies.
"I think he has unduly denigrated the institution and a lot of the members," Frank told The New York Times in 1991. "It does not help leftist causes to make people think government is full of poltroons and charlatans."
Those comments from Frank came after Sanders, an independent who self-identifies as a Democratic Socialist, proudly proclaimed his distaste for both political parties before and after his 1990 run for Congress. In a 1989 op-ed in The New York Times, for example, he called the two parties "tweedle-dee" and "tweedle-dum," arguing they were both pawns of the wealthy.
Sanders's criticism—and his voting record—against Democrat-led policies continued during his time in Congress.
"The fact I am not a Democrat gives me the freedom to speak out on the floor of the House, to vote against both the Democratic and Republican proposals," he told the Los Angeles Times in January 1991. "You'll find me time after time voting against both proposals."
That strategy did not endear him to Frank, the congressman told the Los Angeles Times.
"Bernie alienates his natural allies," Frank said. "His holier-than-thou attitude—saying in a very loud voice he is smarter than everyone else and purer than everyone else—really undercuts his effectiveness."
When both Frank and Sanders were members of the Banking Committee, Frank said to The Washington Post in July 1991 that Sanders was not effective from within the committee, and suggested that Sanders didn't want to be.
"But maybe that's not his goal," says Frank. "There are some people who seek to have a major effect inside, and others who opt to use the place as a platform."
By 2007, Sanders had moved over to the Senate. Still, Frank he remained irate about Sanders's criticisms of both sides, he told The New York Times Magazine at the time.
"I think when he first got here, Bernie underestimated the degree that Republicans had moved to the right … I get sick of people saying 'a curse on both your houses,'" Frank said. "When you point out to them that you agree with them on most things, they'll say, 'Yeah, well, I hold my friends up to a higher standard.' Well, OK, but remember that we're your friends."
His criticism has continued through 2016, particularly in that harsh Slate interview last weekend. In addition, Frank went on MSNBC on Monday to explain the problems with Sanders and his supporters.
"I think it is a lack of information, to be honest," Frank said, explaining Sanders's appeal. "You have people, I believe, who do not understand how hard it is to make change. [It is] the importance of not just being idealistic, but being sensibly pragmatic and keeping their ideals. Sanders is getting their support."
He made similar comments against Sanders's idealism to The Washington Post earlier this week.
"Is pragmatism the opposite of idealism? Or is pragmatism a necessary adjunct to idealism?" Frank said. "I think Bernie Sanders tends to have the approach, 'Don't be pragmatic, state your ideals, state what you think is the right policy, and be very wary of compromise and of accepting less than you want.'"
Yet despite all this criticism, Frank doesn't flatly reject Sanders's well-honed political skills. That grudging respect was best explained in a Globe story last March.
"His public persona is forceful," Frank said, "but that's not inconsistent with being a good, retail politician."