Politics
In debate, Bernie Sanders had no specific example of Wall Street donations affecting Hillary Clinton's decisions
But in 2004, Elizabeth Warren did.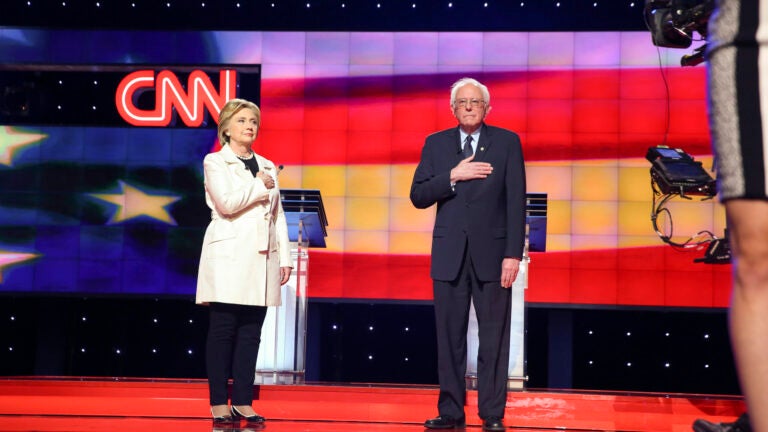 Throughout the Democratic primary, Bernie Sanders has suggested that campaign contributions to Hillary Clinton's campaign from Wall Street can, or would, affect her decisions in public office.
In the debate Thursday night in Brooklyn, CNN moderator Dana Bach pressed the Vermont senator on that insinuation.
"Can you name one decision that she made as senator that shows that she favored banks because of the money she received?" Bash asked.
But in his answers, Sanders offered no specific example. Instead, he criticized Clinton her making paid speeches to Goldman Sachs and implied her ties to Wall Street influenced her response to the recent economic crisis in dealing with the banks.
Clinton pounced on the lackluster answer.
"You can tell, Dana, he cannot come up with any example, because there is no example," Clinton said to raucous applause.
Elizabeth Warren circa-2004, however, might disagree.
Then a Harvard law professor, Sanders's colleague from Massachusetts had an example for where he came up empty. In an interview with Bill Moyers, Warren said Clinton reversed her opposition to a credit card industry-backed bankruptcy bill as First Lady after she joined the Senate.
The reason, according to Warren: Clinton's Senate campaign took money from the credit card industry.
Warren spoke glowingly of her meeting with Clinton during her husband's presidency ("I never had a smarter student") and credited the then-First Lady for President Bill Clinton's eventual veto of the bill.
But a few years later, in 2001, the bill returned and Clinton was now a senator. According to the Washington Post, her 2000 campaign took $144,000 from the credit card industry. This time, Clinton supported the bill, and Warren told Moyers it was an example of influence of those donations.
"The credit card companies have been giving money, and they have influence," Warren said. "She has taken money from the groups, and more to the point, she worries about them as a constituency."
Clinton says it's not that simple, however.
Appearing on ABC's This Week in February, Clinton pointed out that the bill introduced during her time in the Senate included provisions to protect single mothers and their children, groups which Warren had written would be disproportionately affected by the prior bill.
"It had nothing to do with any money whatsoever," Clinton said.  "It had to do with trying to get a deal that would protect women. … I faced a tough decision and I stood up for women and children."
Except in her 2002 book, Warren wrote that while those changes "may have provided some political cover," it actually provided no help to single mothers.
Of far more importance was the fact that the bill would permit credit card companies to compete with women after bankruptcy for their ex-husbands' limited income, and this provision remained unchanged in the 1998 and 2001 versions of the bill. Senator Clinton claimed that the bill improved circumstances for single mothers, but her view was not shared by any women's groups or consumer groups.
The Washington Post Fact Checker blog points out that every Democratic female senator voted to advance the bill, but some notably liberal senators, such as Massachusetts' Ted Kennedy, did not.
Ultimately, that bill did not eventually pass. But it came back again in 2005 (after Warren's book and appearance on Moyers show), and this time, as the Post noted, Clinton again opposed the bill, which had been stripped of at least one of the amendments she championed in 2001.
So Warren's assertion that Clinton was affected by credit card industry donations certainly gets into the weeds. Moreover, in an attempt to fact check Warren's 2004 critique, the Post Fact Checker blog opted to give no rating.
"We face a conundrum here," wrote the blog's Glenn Kessler.
So to bring things back to Thursday's debate, there was indeed an example, which Sanders missed.
But it's a pretty messy one.