Politics
Pro-marijuana group depicts recovering alcoholic Marty Walsh saying 'Drink more alcohol' in poster
The campaign's poster also targeted Gov. Charlie Baker, accusing both political leaders of hypocrisy.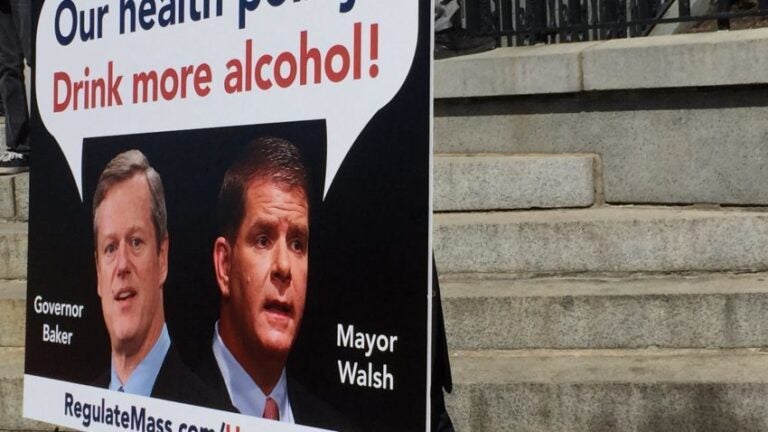 Opposition from Gov. Charlie Baker and Boston Mayor Marty Walsh seems to have emboldened the campaign pushing to legalize recreational marijuana in Massachusetts. The group unveiled a new poster Friday depicting Baker and Walsh, who is a recovering alcoholic, under a cartoon word bubble saying "Our health policy: Drink more alcohol!" and accused the duo of hypocrisy for conflicting approaches to alcohol and marijuana policy.
The campaign, which is backed by the powerful national Marijuana Policy Project, unveiled the poster at a Friday press conference outside of the State House. The move comes a day after the unveiling of an anti-legalization campaign backed by Baker, Walsh, and House Speaker Robert DeLeo. Will Luzier, campaign manager of the Campaign to Regulate Marijuana Like Alcohol, blasted Baker and Walsh's past support for increasing local control over liquor licensing and later operating hours for bars while opposing marijuana legalization. Luzier argued alcohol is far more dangerous than marijuana.
"People who are familiar with both marijuana and alcohol know that it makes absolutely no sense to live in a society where alcohol flows freely but marijuana is prohibited," he said.
The sign is bold on its own right, but especially in its criticism of Walsh, who has referenced his work with addicts in explaining his opposition to marijuana legalization. Luzier didn't shy away when asked about the appropriateness of the image, saying Walsh, as an addict, should not support expanding liquor licenses and bar hours.
"I understand Mayor Walsh is a recovering alcoholic. I know Mayor Walsh personally. And his advocacy for the expansion of operating hours for alcohol establishments and the expansion of licenses in the city of Boston, I believe, are in conflict with his position as a recovering alcoholic," he said. "That's a question you'll have to ask him."
Speaking to reporters Friday, Walsh said he does not believe pro-marijuana advocates have given a good reason for why it should be legalized.
He did not directly answer a question about his past support for expanded liquor licenses or bar hours, instead saying his record shows advocacy for addicts and arguing that marijuana is "in some cases a gateway drug."
Walsh described the poster as "foolish." "That's the type of politics people don't like," he said.
The campaign backed by Walsh and Baker, the Campaign for a Safe and Healthy Massachusetts, has put children at the center of its argument, saying legalizing cannabis could result in the creation of edible products like marijuana-laced candy that would appeal to kids. The group issued a statement in response to the pro-pot campaign's press event Friday.
"When it comes to an issue like the health and safety of kids, voters deserve better than absurd, disingenuous attacks from the marijuana industry," spokesman Corey Welford said. "The marijuana industry is the only one that stands to make billions in profits from this new law, and they will do and say anything to distract from the real issue."
Luzier countered the criticism about edible pot. He said a new state commission overseeing marijuana, which the law would create, could write regulations about edible products "in a way that would not make them attractive to children."
Among other measures, the proposed law would impose a 3.75 percent excise tax on marijuana in addition to the normal sales tax, allow cities and towns to put their own tax on sales, and allow users to grow up to 12 personal plants per household.
Recent polls indicate majority support for the ballot question, which is all but certain to go before voters in November. Baker and Walsh have both seen high approval ratings in polls.
Initiatives in Massachusetts to decriminalize marijuana possession in 2008 and legalize medical marijuana in 2012 each passed easily.
Noting opposition from elected officials during those ballot initiatives, Luzier said he thinks the anti-pot push from big-name politicians could ultimately bolster his campaign.
"We'll have a rigorous ad campaign leading up to the election. I'm sure the other side will too," he said. "Frankly, when I said we don't shy from a fight, this may make it easier for us to raise funds for our ad campaign. And obviously, we're going to need more money than we ever anticipated just because they'll have ads opposing us."
As of January, the pro-marijuana campaign had raised nearly $300,000.
The Campaign for a Safe and Healthy Massachusetts is not the only group opposing the legalization push. Dan Delaney, a former public health official and lobbyist whose clients include medical marijuana companies, launched a campaign in January to oppose the question, too. Luzier's campaign has charged that Delaney is acting to protect medical marijuana clients' grip on the market, a charge Delaney denies.
In an interview Friday, Delaney said he intends to keep his campaign active, working in a separate but coordinated capacity with the campaign backed by Baker and Walsh through the election.
"You're going to see four or five key messages about why this ballot initiative is a bad idea," he said. "Maybe we'll segment communities or target demographics or whatever."