Politics
Paul LePage frankly vetoes bill seeking to increase access to overdose antidote
"Naloxone does not truly save lives; it merely extends them until the next overdose."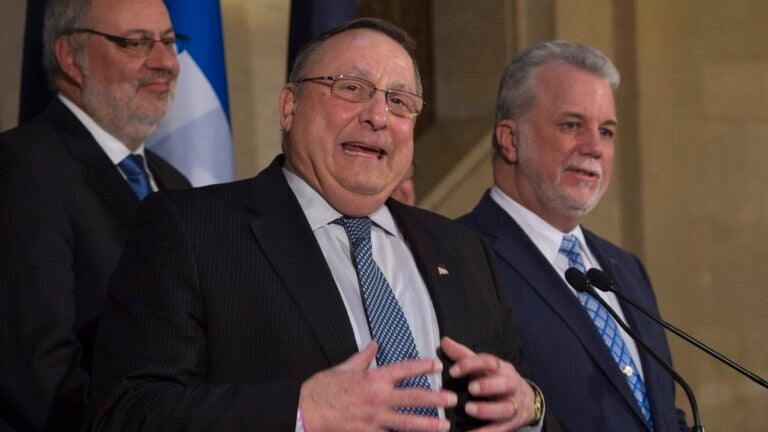 Maine Gov. Paul LePage vetoed a bill Wednesday that would have increased access to the opioid overdose antidote naloxone, also known by its brand name, Narcan.
The bill, which was passed earlier this month by a 25-8 vote in state's Senate and 98-49 in the House, aimed to allow pharmacists to provide the antidote without a prescription.
In a written veto Wednesday, LePage knocked the bill back down to the legislature, saying that it would allow naloxone to be distributed to "practically anybody who asks for it."
"Naloxone does not truly save lives; it merely extends them until the next overdose," the Republican governor said.
"Creating a situation where an addict has a heroin needle in one hand and a shot of naloxone in the other," he continued, "produces a sense of normalcy and security around heroin use that serves only to perpetuate the cycle of addiction."
To "truly fight the heroin crisis," LePage wrote the state must "ramp up" its efforts against those bringing heroin into the state.
The governor made headlines in January when he remarked that "guys with the name D-Money, Smoothie, Shifty" were coming to Maine to "sell their heroin" and "impregnate a young, white girl before" before returning to states like Connecticut and New York.
According to the Portland Press-Herald, 272 people in Maine died from opioid overdoses last year and "roughly 30" other states already allow pharmacists to sell unprescribed naloxone, which can block the effects of opiate addiction.
Last year, CVS pharmacies expanded unprescribed naloxone access to friend and family members of those suffering from opioid addiction in 14 states, which includes Massachusetts.
LePage wrote Wednesday the state should look into expanding "education and prevention efforts" regarding heroin addiction.
"For those reasons, I return LD 1547 unsigned and vetoed," he wrote. "I strongly urge the Legislature to sustain it."
It would take a two-thirds vote in both legislative chambers to override the veto—which is not out of question considering the previous vote margins.