Politics
Massachusetts pro-pot group regrets its controversial Marty Walsh sign
The sign put the words "Drink more alcohol" in Walsh's mouth. Walsh is a recovering alcoholic.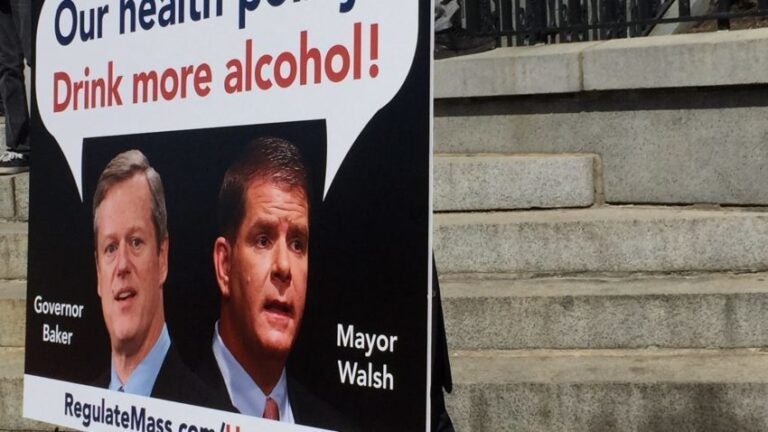 A spokesman for the Campaign to Regulate Marijuana Like Alcohol said the group should not have unveiled a poster last week that criticized Gov. Charlie Baker and Boston Mayor Marty Walsh, a recovering alcoholic, by putting the words "Our health policy: Drink more alcohol" on a word bubble over their heads.
"Putting those words in a recovering alcoholic's mouth was wrong," the campaign's communications director, Jim Borghesani, told WGBH's Adam Reilly in a podcast posted online Thursday. "We shouldn't have done it. We regret it."
The sign was intended to point out that the high-profile politicians, who are actively opposing a November ballot question that would legalize recreational marijuana, have supported expanding liquor licenses and bar hours. However, it caught attention for appearing insensitive to Walsh's addiction.
Borghesani said the signage was a tactical misstep for the campaign and won't appear again.
"We think the message on the sign, the graphic, sort of became the story rather than the hypocrisy we were pointing out," he said. "We think our messaging is so strong and our data is so convincing that we wont have to use signs like that again," he added.
Though the campaign won't use the sign going forward, it will continue to argue that public officials take contradictory positions on alcohol and marijuana. Borghesani called alcohol more dangerous than pot and said the sign's "underlying message is something that is valid, and we will continue to point out public policies that contradict other public policies."
Borghesani and Reilly were joined by state Sen. Jason Lewis, who led a Senate committee to study marijuana policy that was largely critical of legalizing pot. Lewis has joined Walsh and Baker in opposition to the ballot question.
Lewis addressed Borghesani's criticism on alcohol policy by agreeing with Borghesani that alcohol is dangerous.
"Rather than, we should regulate marijuana like alcohol, why would we want to go down this path?" he said.
"We're not trying to say let's bring back prohibition of alcohol," Borghesani answered. "We're saying, why don't state laws reflect the relative dangers of these substances?"
Borghesani also criticized Lewis and other lawmakers for not taking up marijuana legalization in the legislature, setting up the issue for the upcoming ballot initiative.
"You guys could have addressed this," he said. "You're saying now, 'Let's wait. We have to wait on this, essentially because we haven't done our jobs.'"
Lewis defended the legislature by saying it is dealing with several other issues.