Politics
Deval Patrick is reportedly on the Hillary Clinton campaign's short list for vice president
However, the former Massachusetts governor has not been particularly receptive to vice presidential speculation, or the Clinton campaign.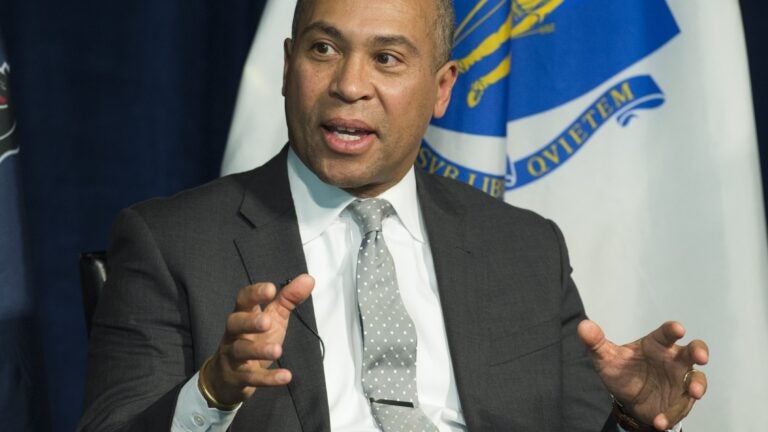 The Democratic presidential primary is not technically over yet.
However, Hillary Clinton's campaign reportedly feels safe enough with their lead to begin organizing their list of potential running mates—a list which includes former Massachusetts Gov. Deval Patrick.
According to a New York Times report Saturday, Patrick is among a handful of names "under discussion" to be Clinton's vice presidential nominee among campaign advisers, former President Bill Clinton, and the Democratic front-runner herself.
Along with Patrick, the campaign is said to be considering Virginia Sens. Tim Kaine and Mark Warner, Ohio Sen. Sherrod Brown, New Jersey Sen. Corey Booker, Labor Sec. Thomas Perez, and Julian Castro, the secretary of housing.
Massachusetts Sen. Elizabeth Warren also "has not been ruled out," though the report notes she "has not been helpful" to Clinton's campaign.
In 2007, Patrick became the first and, thus far, only African-American governor of the Bay State. After leaving office in 2015, Patrick joined Bain Capital, the Boston-based private equity firm founded by his gubernatorial predecessor Mitt Romney, as a managing director.
Despite reportedly being considered as Clinton's running mate, Patrick has repeatedly ruled out any such vice presidential speculation.
The then-governor gave a straight-up "no," when asked by the Boston Herald in January 2014 about a potential "Hillary-Deval ticket," though it's unclear whether he was objecting to the idea itself or the entire premise of the question.
Last December, Patrick was asked by NECN if he would "rule out being a vice presidential candidate if called on or asked," and replied, "Yes I would. Yes I would."
Further muddling his odds to be veep, Patrick, who has not officially endorsed a presidential candidate, has repeatedly made noise about what he called Clinton's "inevitability" problem.
While complimentary of the former secretary of state, Patrick has simultaneously called for a strong Democratic primary challenger as far back as the fall of 2014.
"I think she's fantastic and incredibly strong,'' the then-governor said that September. "But the problem with inevitability is it's sometimes interpreted as entitlement and I think that voters want competition and they want their candidates to have to work for it."
A few months later, Patrick reiterated that point, calling Clinton an "extraordinary public servant" and potentially a "terrific candidate for president," yet noting that "the narrative that it's inevitable is off-putting to regular voters."
Patrick went against his state's pro-Clinton leaning to endorse President Barack Obama's primary campaign in 2007 and has been publicly noncommittal about the 2016 Democratic front-runner's candidacy.
Amid speculation later last fall that Vice President Joe Biden would jump into the Democratic race, many supporters of the current veep looked to leverage Patrick's close relationship with Obama and fundraising ties to Biden into an alliance or an endorsement.
Yet, Patrick has kept his endorsement to himself.
"I'm going to be listening to all of the candidates," he told BuzzFeed in May 2015 when asked if he would support or raise money for Clinton's primary campaign.
In 2014, the then-governor told WGBH that, unlike with Obama, he was not personally close to Clinton.
"It's not like we're pals," he said.