Politics
Rhode Island primary poll shows Hillary Clinton and Donald Trump leading with many still undecided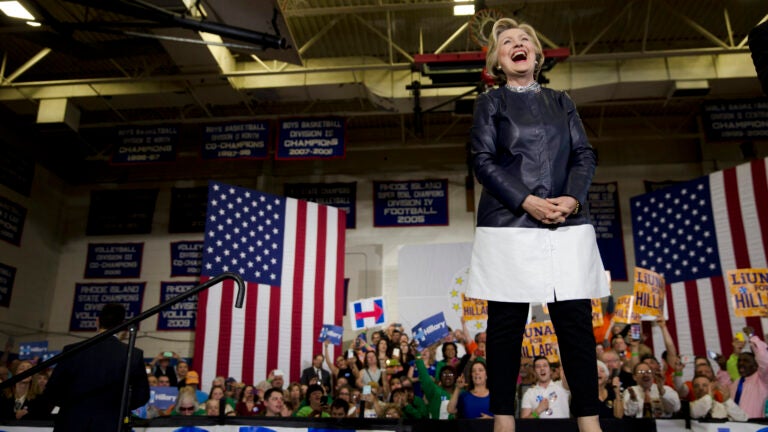 With the 2016 presidential circus descending on Rhode Island, a new poll Sunday shows the two leading primary candidates up in the nation's smallest-sized state.
Among 600 registered Rhode Island voters surveyed by Brown University, Hillary Clinton leads Bernie Sanders 43 percent to 34 percent on the Democratic side, while Donald Trump leads John Kasich on the Republican side 38 percent to 25 percent. Ted Cruz is third in the GOP race with 14 percent.
While Clinton's 9-percentage-point lead is the same margin that it was in February when Brown last polled the race, Trump's 13-percentage-point margin is five points less than it was two months ago.
Notably in both races, still about one in six voters have yet to make up their mind ahead of Tuesday's primary. According to the poll, 16 percent of Democratic voters and 17 percent of Republican voters remain undecided.
Connecticut, Delaware, Maryland, and Pennsylvania also hold primaries Tuesday. However, Rhode Island is the only state of the five that holds an open primary, which means unaffiliated or independent voters can participate.
Among unaffiliated voters planning to vote in the Democratic primary, Sanders leads Clinton 42 percent to 22 percent, with 24 percent still undecided. Meanwhile, Trump and Kasich are tied at 31 percent among unaffiliated voters who say they will vote in the Republican primary, with 18 percent undecided and 13 percent favoring Cruz.
By Monday, every candidate besides the Texas senator will have visited the 1,241-square-mile state within a matter or days. Kasich and Clinton campaigned in the state Saturday, Sanders held a rally Sunday in Providence, and Trump is scheduled to be in Warwick on Monday.
On the Democratic side, Rhode Island has 33 total primary delegates. However, nine of those delegates are superdelegates—all of whom, including Gov. Gina Raimondo and the state's entire U.S. congressional delegation, have pledged their support to Clinton.
The remaining 24 delegates will be awarded proportionally following Tuesday's vote.
Similar to the Democrats, though unlike the delegate allocation rules in many other GOP primaries, Rhode Island's 19 Republican delegates will also be awarded proportionally.
As WPRI.com's Ted Nesi recently explained, this system is particularly friendly to the second and third finishers and will likely diminish the impact of a Trump victory, especially when compared to states in which delegates are awarded on a winner-take-all basis.
Simply, Trump could win in a landslide victory with more than 50 percent of the overall vote and beat both Kasich and Cruz by more than 30 points. But as long as both Kasich and Cruz win more than 10 percent of the vote in each congressional district, as the polls show, they could deny Trump the majority of the state's delegates.