Politics
Facing reported labor probe, Walsh says he 'never bullied' developers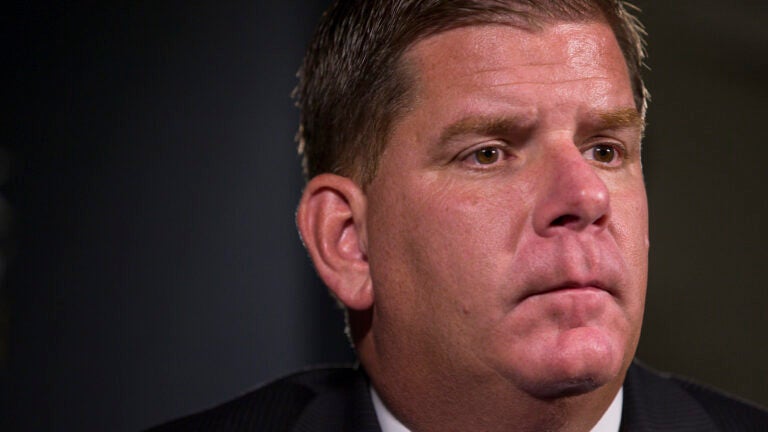 With a federal investigation about Boston-area labor practices reportedly tapping into his past as a union leader, Boston Mayor Marty Walsh on Wednesday defended himself, saying he did not use overly aggressive tactics as head of the Boston Building Trades.
"I never bullied anybody, any developer. That's just not my style," Walsh told Boston Herald Radio.
The Boston Globe last weekend reported that Walsh had been recorded on a wiretap in 2012 discussing a housing project from AvalonBay Communities at Somerville's Assembly Row, the big mixed-use development that broke ground that year.
According to the report, Walsh — at the time a state representative — told another union official, Anthony Perrone of the Laborers Union Local 22, that he had told AvalonBay officials that if they did not use union labor in Somerville, they would run into issues with a separate project in Boston. The Globe had previously reported a federal investigation involving Perrone, and the recording reportedly came out of a broader look into regional union practices.
Walsh said his discussions with AvalonBay about Somerville were "nothing but a respectful conversation." In the interview, he noted that he had named an AvalonBay executive to a housing task force after he became mayor in 2014.
"If there was such a bad relationship there, why would they be at the table, and why would I ask them to be at the table?" he said.
The mayor spoke along similar lines on Monday, when he said: "No prior developer said that when I was at the building trades it was unfair to deal with Marty Walsh."
Walsh also said Monday that he does not expect to be indicted, but that he is "assuming at some point" others would be, if the federal investigation is happening.
On Wednesday, Walsh lamented the news media and questioned the efficacy of the Globe's report, suggesting somebody may have a "vendetta" against him.
Speaking about the media, without being asked, Walsh brought up last year's Olympic bid — which some residents criticized him for supporting, and which he has spoken infrequently about since its collapse last July. The bid failed due to public disapproval amid questions of whether it would leave taxpayers on the hook for any cost overruns and distract from other civic priorities, and it was met with a largely skeptical press.
"It just got torpedoed from the very beginning," he said. "We were in the first pitch of the first inning. The papers just tore down the Olympics."
Walsh said he was "not going to run away from unions," but criticized some labor tactics, such as the use of inflatable rats at non-union job sites. "The days of the rat are gone," he said.