Politics
President Obama drops the mic—quite literally—in final White House Correspondents' Dinner speech
Obama out.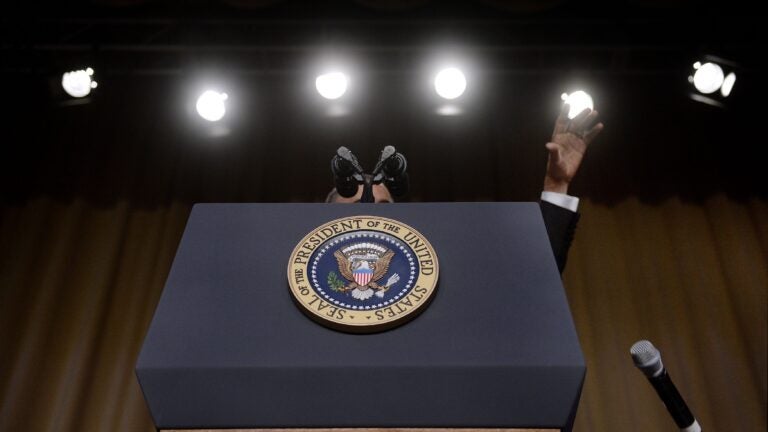 In his final White House Correspondents' Dinner as president, President Barack Obama aimed his jokes at the current crop of his potential successors. And he also dropped the mic.
Watch Obama drop the mic at the end of his last #WHCD https://t.co/W8e2bS60oa

— Brandon Wall (@Walldo) May 1, 2016
On the Democratic side, Obama used his comedic chops to ding Bernie Sanders, "the bright, new face" of the party, with a call-back joke about the Vermont senator's work to distance himself from the president on some issues.
"That's just not something you do to your comrade," Obama said.
The line was a reference to last year's speech, before Sanders had really launched his candidacy.
"Bernie Sanders might run; some folks really want to see a pot-smoking socialist in the White House," Obama said at the time. "We could get a third Obama term after all."
He did, however, compliment Sanders' slogan,"Feel the Bern," compared to the parody slogan of his opponent, Hillary Clinton, displayed on screen: "Trudge up the Hill."
.@POTUS compliments @BernieSanders' #FeelTheBern slogan, gets big laugh from Sanders: https://t.co/FxGpBQ42Tk https://t.co/0OIYgCeHoF

— CBS News (@CBSNews) May 1, 2016
In another jab toward the Democratic front-runner, Obama noted that, "if this material works well, I'm going to use it at Goldman Sachs next year."
Of course, the president zinged his cross-party rivals, too.
On the Republican side, Obama said things were a little more "loose," noting that there was confusion about the invitations to Saturday night's dinner.
"Guests were asked to check whether they wanted steak or fish," he said. "But instead, a whole bunch of you wrote in Paul Ryan."
Ryan, the Speaker of the House, has repeatedly said he would not accept the nomination at a contested GOP convention.
"That's not an option, people," Obama said. "Steak or fish."
Speaking of steak, Donald Trump was not in attendance Saturday night, but that didn't mean he escaped Obama's monologue.
Obama: "You know I've got to talk about Trump" https://t.co/1FIKzrf8Kb #WHCD https://t.co/5dBojf7GdY

— CNN (@CNN) May 1, 2016
On Trump's foreign policy experience, Obama said the real estate developer and reality TV star has spent years meeting foreign representatives around the world.
"Miss Sweden," Obama said. "Miss Argentina, Miss Azerbaijan."
However, Obama saved perhaps his most withering jokes not for Trump himself, but for the out-sized coverage the candidate has received from the press.
"I hope you all are proud of yourself," Obama addressed the audience of mostly media members. "The guy wanted to give his hotel business a boost, and now we're praying that Cleveland makes it through July."
https://twitter.com/ErrolCNN/status/726612489434099712