Politics
New Hampshire Sen. Kelly Ayotte affirms she'll support Trump as nominee
Trump's unpopularity could hurt Ayotte in her reelection bid.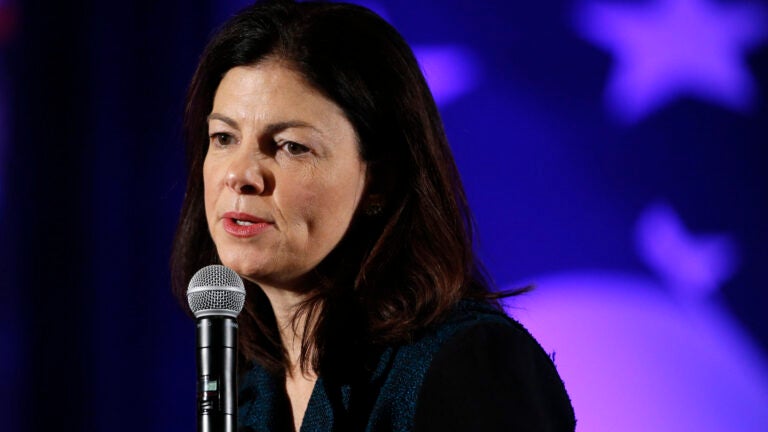 A day after Donald Trump became the presumptive nominee for the Republican party, New Hampshire Sen. Kelly Ayotte, a Republican, reaffirmed her plan to support him in a general election.
"As she's said from the beginning, Kelly plans to support the nominee," a spokesperson for Ayotte told WMUR.
New Hampshire is typically a swing state, and Ayotte faces a tough rival in Democratic Gov. Maggie Hassan. But that already formidable challenge is made more difficult by the looming presence of Trump on the ballot.
In a recent poll from WMUR, 75 percent of likely New Hampshire voters said they had an unfavorable view of the businessman. That's not a one-state anomaly; voters dislike Trump at a historically unprecedented level for a major party nominee, according to polling from the Associated Press-GfK.
As such, his presence on the ballot in November alongside Ayotte is likely to hurt her reelection bid, experts have said.
"Here in New Hampshire, if Donald Trump is the nominee, we will not get a Republican governor," said former Republican Gov. John Sununu. "We will lose the New Hampshire State Senate, and we could lose the New Hampshire State House. It is that bad, and we could lose Sen. Ayotte."
Hassan pounced on the opportunity to link the two Republicans.
"Ayotte and Trump are clearly in agreement when it comes to critical issues such as their desire to defund Planned Parenthood, undermine Roe v. Wade, and obstruct the Supreme Court confirmation process," a spokesperson for Hassan said in a statement. "And all Granite Staters should be concerned that Ayotte has pledged to support Trump as the nominee, even though national security experts and members of both parties have condemned his foreign policy positions as dangerous to our country's vital interests."