Politics
Jon Stewart returns to blast 2016 coverage, Hillary Clinton, and 'man-baby' Donald Trump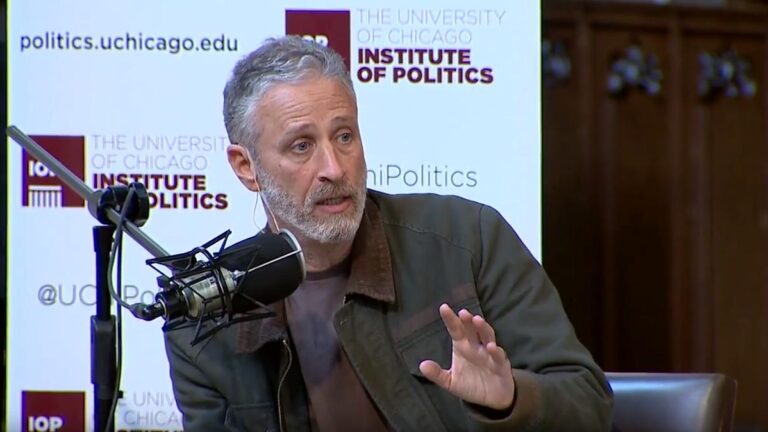 Channeling citizens across the United States, the first question Jon Stewart was asked Monday ahead of the former Daily Show host's first extended remarks on the 2016 election:
"Where have ya been, man?"
During a live-taping of "The Axe Files," a politics podcast hosted by former Barack Obama campaign manager David Axelrod, Stewart was in vintage form: serious, though at times playful, and pulling no punches on the 2016 players—from the media to Hillary Clinton to, perhaps most particularly, Donald Trump.
Putting the billionaire's political rise and campaign into context, Stewart noted that nativism wasn't unique to the United States, but that "globalization has created this strange pushback throughout the entire world," adding that it was a "natural reaction to fear."
Yet, Trump as an individual, Stewart said, is in a class of his own.
"He is a man-baby," Stewart said of the presumptive Republican presidential nominee.
"He has the physical countenance of a man and a baby's temperament and hands," he added, noting Trump's inability to let go of criticism, from Stewart's own past Twitter spats with him to the long-running mockery of the size of Trump's hands.
"Vanity Fair, Graydon Carter did a joke about Donald Trump's hands 25 years ago, he's still not f—ing over it," Stewart said.
Stewart also criticized the Republican Party for condemning the efficacy of government, while at the same time actively working to obstruct it.
"They can sit as an impediment to that government, and point to their destruction as evidence of their thesis," he said.
His criticism was hardly aimed at one side of the aisle, however. Stewart also criticized the likely Democratic nominee, Clinton, who he called a "very bright woman, without the courage of her convictions."
"Because I'm even not sure what they are," he added.
"She reminds me of Magic Johnson's talk show," Stewart said of the former secretary of state's campaign, adding that the former NBA player was a "charming individual, but he wasn't a talk show host."
"You could almost see Arsenio's advice rendering to him in real time. … He never seemed authentic and real to his personality," he said. "It seemed like he was wearing an outfit designed by someone else, for someone else, to be someone else."
Though Stewart added, "That is not to say that she is not preferable to Donald Trump, because at this point I would vote for Mr. T over Donald Trump. But I think she will be in big trouble, if she can't find a way, and maybe I'm wrong, maybe a real person doesn't exist underneath there. I don't know."
He also criticized the Democratic Party for not making government work better.
"What's incumbent on those who believe government can make a difference in people's lives, is to try and make it more efficient, and that's where I think the Democrats fail in an enormous way."
Stewart signaled perhaps his utmost disappointment with what was his number-one target at the Daily Show: the media.
Noting how certain news network heads had call Trump "good for business," Stewart said the current media system is "corrosive and corrupt.
"Right now, the system is incentivized in the way a crack dealer is incentivized, which is it can do tremendous damage," he said, "but as long as people are buying crack, everything is good on his block."
Stewart said news media and political campaigns were working in mutual benefit, given the push for clicks and ratings.
"The media is no longer  predator and prey, which I think should be the relationship," he said, "but a remora, that's just attached underneath, hoping for crumbs that fall off of the shark."