Politics
Mitt Romney calls Donald Trump's refusal to release tax returns 'disqualifying,' again speculates of 'bombshell'
Trump says he doesn't think voters are interested in what he paid in taxes.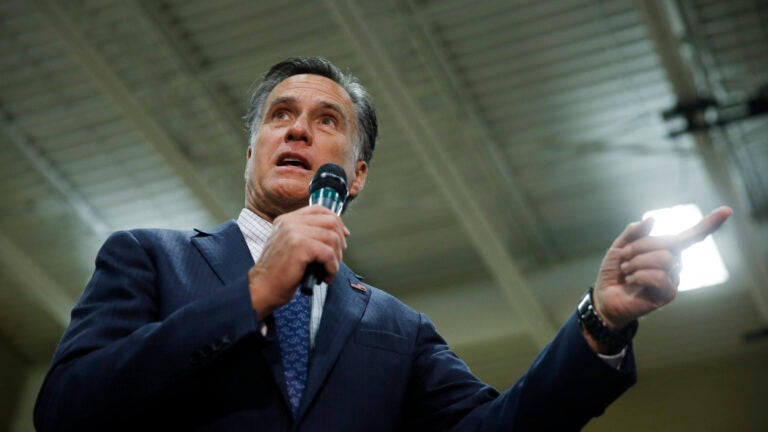 Just as Donald Trump was engaging in a heated Twitter battle Wednesday afternoon with Sen. Elizabeth Warren, another Massachusetts politician chimed in to ding the Donald.
Mitt Romney, who has been as consistent as Warren in his criticism of Trump, called the likely Republican presidential nominee's refusal to release his tax returns "disqualifying."
"The potential for hidden inappropriate associations with foreign entities, criminal organizations, or other unsavory groups is simply too great a risk to ignore for someone who is seeking to become commander-in-chief," the former Massachusetts governor and 2012 GOP presidential nominee said in a Facebook post Wednesday.
In an interview earlier Wednesday with the Associated Press (the contents of which Trump later disputed), Trump reportedly said he doesn't plan to release his tax returns anytime soon before the general election. Per the AP:
Despite pressure, the billionaire also doesn't expect to release his tax returns before November, citing an ongoing audit of his finances. He said he will release them after the audit ends. But he said that he wouldn't overrule his lawyers and instruct them to release his returns if the audit hasn't concluded by November.

"There's nothing to learn from them," Trump told The Associated Press in an interview Tuesday. He also has said he doesn't believe voters are interested.
At least one voter who is interested, Romney, said that Trump is free to release his tax returns, regardless of whether he is being audited.
"There is nothing that prevents releasing tax returns that are being audited," he said. "Further, he could release returns for the years immediately prior to the years under audit."
Apparently alerted to Romney's remarks Wednesday, Trump tweeted shortly after the former governor's post that the AP incorrectly reported what he had said.
In interview I told @AP that my taxes are under routine audit and I would release my tax returns when audit is complete, not after election!

— Donald J. Trump (@realDonaldTrump) May 11, 2016
But Julie Pace, one of the AP reporters who interviewed Trump, told CNN that Trump was using the audit, which may not be completed before November, as cover—rather than releasing his returns, as has every major party candidate since 1976.
"He still leaves himself this out by saying if this audit wraps up before the November election, then sure he'll release his tax returns," Pace said. "We said, 'Will you push your lawyers on this, will you tell them that voters deserve to know this information regardless of the audit?' He said, 'No.' He said, 'One, the voters don't actually care about this, and two, there is no new information that would come out of the tax returns.'"
Again, Romney disagrees.
As previously speculated, he said Wednesday that he believes Trump is hiding a "bombshell" of some kind in his tax returns.
"There is only one logical explanation for Mr. Trump's refusal to release his returns: there is a bombshell in them," Romney said. "Given Mr. Trump's equanimity with other flaws in his history, we can only assume it's a bombshell of unusual size."
When Romney first floated his "bombshell" theory in February, hespecified that he thought Trump "hasn't been paying the kind of taxes we would expect him to pay, or perhaps he hasn't been giving money to the vets or to the disabled, like he's been telling us he's been doing.''
Romney noted that he released his 2010 tax returns in January 2012 and his 2011 returns, "as soon as they were completed" in September 2012.
Hillary Clinton, the likely Democratic nominee, has released tax returns from 2014 dating back to 2000.