Politics
What college students should expect from Donald Trump, Hillary Clinton, and Bernie Sanders
Here's how the remaining presidential candidates plan to address the crippling cost of college.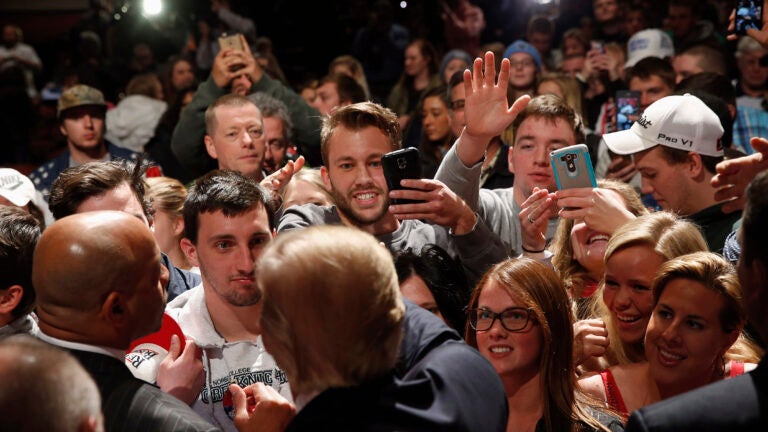 Young people have already played an influential role in the 2016 presidential campaigns. But it is yet to be seen what effect the 2016 candidates will have in turn on their much younger peers.
In interviews with Boston.com, higher education experts spelled out how each of the remaining presidential candidates plan to address college affordability and what it could mean for this year's graduates and future students.
On the Democratic side, where the college affordability crisis has played a central role since the candidates were campaigning in New Hampshire, front-runner Hillary Clinton has proposed a detailed and nuanced plan befitting the theme of her candidacy.
For current college students, Clinton says her $350-billion plan would provide grants to states to make tuition debt-free for four-year, public colleges and limit the cost of non-tuition costs, like room, board, and books. The plan would also provide tuition-free community college, as President Barack Obama has proposed.
These provisions would rely on two commitments. First, the states would have to commit to not reducing their investment in higher education in order to receive these federal grants — about $175 billion over 10 years. Second, families would have to make a "realistic and simplified" contribution and students would have to work 10 hours a week in order to pay for the cost of tuition. But Clinton says that under her plan students and their families should be able to afford tuition without borrowing.
"How much a student would pay under Clinton's plan would depend on his or her family's income," said Michael Stratford, an Inside Higher Ed reporter, who has covered the 2016 candidates.
"Families under Clinton's plan would be responsible for an paying an 'affordable' share of tuition — a standard which she hasn't yet defined in detail," Stratford said.
Clinton's plan, ambitious as it may be, does not go as far as the plan of her primary opponent, Bernie Sanders, who thinks higher education should be a public good, like elementary or high school.
Sanders would make tuition at public universities free for all students. The Vermont senator's campaign points out that not only do many European countries provide tuition-free college, but that the University of California used to do so as well in the 1980s.
Also included in his plan, public colleges and universities would be required to cover 100 percent of the financial need of low-income students in order to pay for those non-tuition living costs, like room and board.
Similar to Clinton's plan, Sanders' plan also requires states to commit, with the federal government providing 67 percent of the total cost of the plan and the states covering the other 33 percent.
The Sanders campaign says the plan would cost $750 billion over 10 years. Both campaigns have said they would pay for their plans by taxes aimed at high-income earners.
The draft of Clinton's plan does not elaborate beyond "limiting certain tax expenditures for high-income taxpayers." However, CNN reported that it refers to capping itemized deductions at 28 percent, which would potentially affect individuals making over $200,000.
Sanders says he would pay for his plan with a tax on Wall Street speculation.
According to Stratford, the biggest difference between the two Democratic candidates' plans—besides, perhaps, the costs—is which student would most be subsidized.
"The benefits under Sanders's plan would be broadly distributed to all students attending public institutions," he said, "whereas they would be more targeted to low- and middle-income students under Clinton's plan."
Both Clinton and Sanders propose to cut student loan interest rates and allow existing borrowers to refinance their debt, proposals that Sen. Elizabeth Warren has championed, though the Massachusetts senator's 2014 bill did not muster a 60-vote, filibuster-proof majority.
Clinton also proposes to enact a repayment program to allow those who do incur debt from college to pay off their loans based on a percentage of their income.
According to Paul Fain, a news editor for Inside Higher Ed, by guaranteeing against student loan debt, both plans benefit those who otherwise would've had to borrow to pay for public college.
"Any student who otherwise would've taken on debt, theoretically, for college would benefit," Fain said, "and that means that students who are likely to borrow a lot for college would benefit the most from government spending on college."
But Fain points out that not all student debt is bad.
"It's a very paradoxical thing in that some of the largest debt that you see in higher education are actually people that fare pretty well," he said, noting that some of the biggest student loan borrowers are people attending graduate schools or liberal arts colleges.
According to Fain, the big problem is the students who take on small amounts of debt, but do not stay in school or complete their degree for lack of money. If Clinton or Sanders can eliminate the financial hurdle to a certificate or degree, they would also eliminate that risk for low-income students.
"That probably would be the group that benefits the most," he said.
The promise of free or debt-free higher education, whether it be community colleges or four-year universities, may also benefit those who would otherwise forgo college. Fain pointed to the state of Tennessee, which saw a 25 percent increase in community college enrollment (and a 10 percent overall enrollment increase at the state's public colleges) after it made statewide two-year college programs free.
"That signal that it sent might be as important as anything," he said. "Might be as important as the money. Just knowing that college is 'free' does change that equation."
On the Republican side, in a field of candidates that has dwindled down to one, Donald Trump's proposals to tackle college affordability is less clear.
"Donald Trump has said virtually nothing about his plans for higher education," Stratford said. "However, he has previously said in broad terms that he wants to help people struggling with student loan debt."
The Trump campaign did not respond to requests for comment about his education policy.
In an interview last month with Fox News, the presumptive Republican nominee expressed concern about the price of college, though he did not offer much detail about how he would address the issue.
"We're going to really look into that," Trump said, adding, "we got to have something with extensions and lower interest rates."
In a recent town hall, Trump said the Department of Education could "largely be eliminated," though he did not specify if that would include the more than $28 billion the department spends on needs-based Pell Grants for college students.
Fain said that rhetoric is "standard fare for a Republican primary," noting that eliminating the Department of Education would have a pronounced impact on colleges, and in turn their students.
"You never know with him," Fain said of Trump, noting that higher education is not a priority issue for him at this point.
In an interview with The Hill, Trump refused to get into detail regarding his college plan, instead pledging to create jobs.
Stratford also pointed out that Trump has repeatedly said the government should not profit off student debt.
"Interestingly, that echoes what Senator Elizabeth Warren has said in calling for federal student loan refinancing," he said. "But Trump hasn't offered any specific policy proposals like that."
According to Fain, frustration about college costs has been an issue that has fueled Sanders' populist campaign to this point, and he wondered if Trump would try to capitalize on the issue going into the general election.
"He's tapped into quite a bit of populist anger himself, which has to do with income," Fain said. "I could see college costs being an issue he would look at, given the demographic that he's spoken to, but who knows."