Politics
Former Massachusetts Gov. Bill Weld confirmed as Libertarian candidate Gary Johnson's VP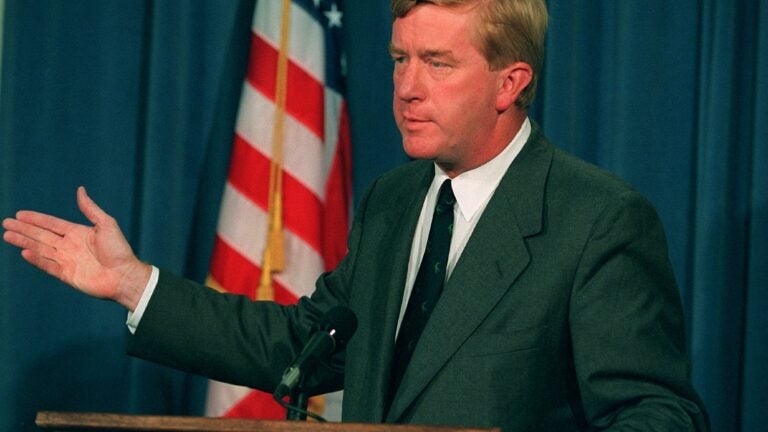 Massachusetts officially has its vice presidential candidate.
But it's not Elizabeth Warren, Scott Brown, or Deval Patrick.
It's former Republican Gov. Bill Weld.
Former New Mexico Gov. Gary Johnson has picked Weld to be his running mate on the Libertarian Party ballot, Johnson presidential campaign spokesman Joe Hunter confirmed Wednesday to Boston.com.
The agreement was first reported Wednesday evening by the Associated Press.
"We got together and shook hands on it," Johnson told the AP. "It brings an enormous amount of credibility to what it is I'm doing. I'm unbelievably flattered by this and humbled."
Weld was governor of Massachusetts from 1991 to 1997, when he resigned to pursue an ultimately unsuccessful nomination to be Ambassador to Mexico. Despite being a longtime Republican, the 70-year-old two-term New England governor is moderate on some social issues. For example, he supports abortion rights, same-sex marriage, and medical marijuana.
In 2006, Weld unsuccessfully ran as both a Libertarian and Republican gubernatorial candidate in New York, where he moved in 2000.
Johnson also told the AP that Weld has volunteered his fundraising experience to aid the cash-strapped Libertarian candidate. Weld is expected to announce his vice presidential candidacy Thursday in New York.
Earlier this week, the Daily Caller was first to report that Weld was being "seriously considered" by the Libertarian candidate.
Johnson received 1 percent of the national vote in the 2012 presidential election and is hoping to cast his 2016 candidacy as a viable third-party alternative to presumptive nominee Donald Trump and front-runner Hillary Clinton, both of whom have historically high unfavorable ratings.
Johnson recently told CNN he would be the only candidate to be on the ballot in all 50 states alongside Clinton and Trump.
The deadline to get on the November ballot has passed in a number of states, including Texas, which has the second most Electoral College votes.