Politics
Report that Koch brother pledged 'tens of millions' to Libertarian Gary Johnson/Bill Weld ticket refuted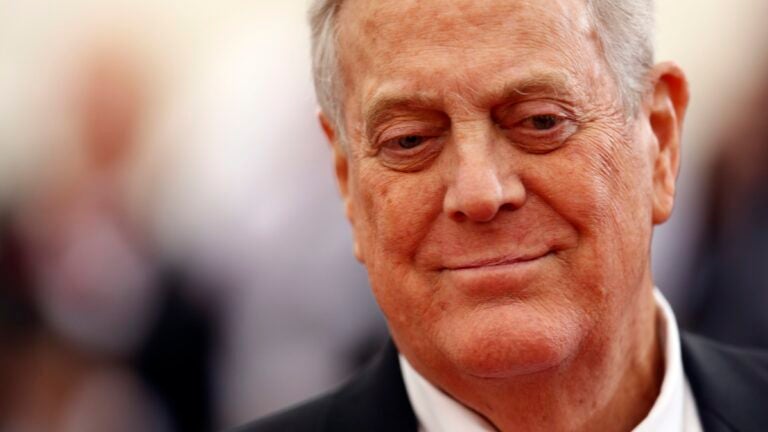 A report that businessman and political activist David Koch has pledged to financially back the Gary Johnson/Bill Weld Libertarian Party presidential candidacy to the tune of eight-figures was disputed Thursday by representatives of both sides.
"Reports that David Koch has pledged his support to Gary Johnson—or any candidate running for president for that matter—are untrue," a Koch spokesperson told Boston.com.
According to a Daily Caller report Thursday citing "a source within Johnson's campaign," the billionaire mega-donor had pledged "tens of millions" in support of the former New Mexico governor, if he locks up the Libertarian nomination.
Johnson, who recently agreed to run on the Libertarian ticket with former Massachusetts Republican Gov. Bill Weld as his running mate, told the Washington Post he had no knowledge of any such plans:
"To my knowledge, it's not happening. That's not to say it isn't, but it would be a surprise to me. We tried to talk to Kochs during the last cycle, and we couldn't do it. There are a lot of people who are expressing interest, in a big way, to be a part of this, but I'm not naming names. I can say that I haven't reached out to the Kochs."
Campaign spokesman Joe Hunter would not confirm or deny the report by the Daily Caller, a conservative website which was first to report that Johnson was considering Weld as a running mate.
"We won't comment specifically on those who may or may not be considering lending support to Gov. Johnson," Hunter told Boston.com in a statement. "We are hearing from a wide range of groups and individuals who are interested in the Governor and our campaign."
David Koch had pledged last year with his brother Charles to spend $889 million on the 2016 elections through their expensive network of political organizations. However, the Kochs recently decided to shift their focus away from national politics amid reduced budgets and the rise of Donald Trump, who is not a natural bedfellow for the libertarian-minded brothers.
In 1980, David Koch was the Libertarians' vice presidential candidate and, like Johnson and Weld, supports abortion rights and same sex-marriage.
According to the National Review, the brothers' political organization had spent less than $10 million in this year's Senate races and not even "a dime" on the presidential race.
Nevertheless, Johnson could use the money. According to his most recent Federal Election Commission filing in April, the Libertarian's campaign has $35,031 cash on hand.
Correction: A previous version of this article incorrectly stated Gov. Gary Johnson's 2016 campaign was in debt. It is Johnson's 2012 presidential campaign that remains in debt. His 2016 campaign, as of last reporting, had $35,031 to spend, as mentioned above.