Politics
Newly minted VP candidate, former Gov. Bill Weld compares Donald Trump's immigration plan to Kristallnacht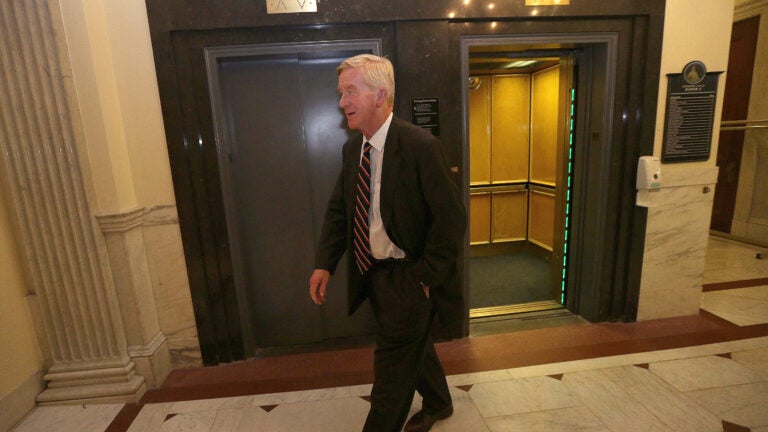 In his first interview as the Libertarian Party vice presidential candidate, former Massachusetts Gov. Bill Weld had a particularly pointed reference when asked about Donald Trump's plan to deport 11 million undocumented immigrants.
"I can hear the glass crunching on Kristallnacht in the ghettos of Warsaw and Vienna when I hear that, honest," Weld, the Republican governor of Massachusetts from 1991 to 1997, told The New York Times on Thursday.
The 70-year-old former two-term governor—who has agreed to be the running mate of Libertarian candidate and former New Mexico Gov. Gary Johnson—said he is "not horrified by everything" Trump has done and wouldn't call the presumptive Republican nominee a fascist or Nazi.
But he did say Trump's hard-line immigration policy was alarming.
"My Kristallnacht analogy does evoke the Nazi period in Germany. And that's what I'm worried about. A slippery slope," he told the Times, later adding, "We got to watch it when we get exclusionary about people on account of their status as a member of a group."
Weld, a Republican who is liberal on on some social issues and critical of the 2003 invasion of Iraq,  previously endorsed former Florida Gov. Jeb Bush and (after Bush dropped out) Ohio Gov. John Kasich for president in the GOP primary.
After resigning from the Bay State's corner office in 1997 in an unsuccessful attempt to pursue an appointment by President Bill Clinton to be Ambassador of Mexico, Weld moved to New York in 2000, where he launched an unsuccessful run for governor in 2006. He also ran for Senate against former Massachusetts Sen. John Kerry in 1996.
"I do like to climb mountains in politics," he told the Times, "and I do enjoy running for office."
Weld now works at the law firm Mintz Levin in Boston and its lobbying group, ML Strategies.
Weld and Johnson hope to amass enough support in national polls to be included in the presidential debates this fall.
According to the Commission on Presidential Debates, which sponsors and produces the presidential and vice presidential debates, candidates must get at least 15 percent support in five recognized national polls.
A national Fox News poll found Wednesday that when Johnson was named in a three-way race with Trump and likely Democratic nominee Hillary Clinton, the Libertarian candidate received 10 percent support.
Johnson was also the Libertarian presidential nominee in 2012. He received 1 percent of the national vote.
The Libertarian Party will hold its nominating convention on Memorial Day weekend in Orlando. While Johnson is favored to win the party's nomination, according to NBC News, it is expected to be a close race against 70-year-old computer programmer John McAfee.