Politics
Elizabeth Warren says Republicans backing bill to garner campaign donations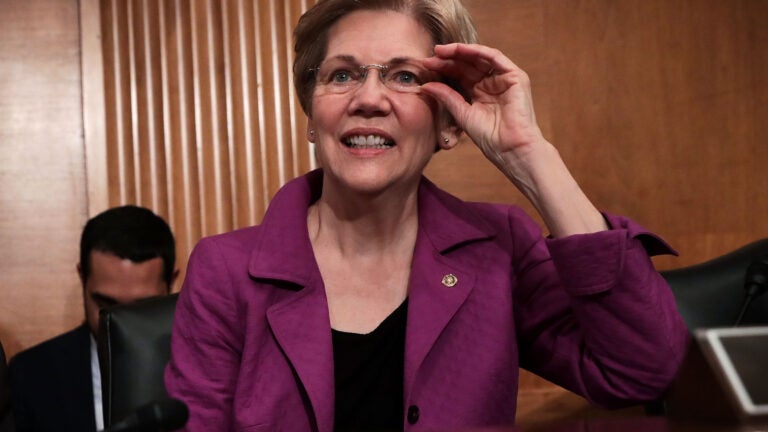 Massachusetts Sen. Elizabeth Warren doesn't know why Republican senators would be opposed to a rule that's meant to protect American's retirement savings — unless they're doing so to help fund their fall campaigns, she said.
On the Senate floor Monday, Warren spoke out against a Republican-sponsored bill that seeks to overturn a rule created by the Department of Labor last month, arguing that Republican senators are publicly objecting to the rule in hopes of gaining campaign donations from financial advisors and brokers. The rule, which intends to close a loophole in retirement advising that allows brokers and advisors to recommend products that further their own profits ahead of investors' best interests, will be confronted by the opposing bill in a Senate vote Tuesday.
"Why would anyone on Earth vote to overturn a rule designed to protect Americans from financial fraud?" Warren asked. "Why? Because it's an election year."
Warren, who has spent her career in the Senate rallying against bailouts for financial institutions, condemned the bill as another attempt on the part of Republicans to cut "too big too fail" banks a financial break, allowing advisors to pad their pockets at the expense of clients.
"Thanks to Washington bailouts, Wall Street is once again flying high," the senator said. "But the real people who were hurt by the financial collapse, the millions of workers who lost their jobs, lost their homes, lost their retirement savings because of Wall Street greed, haven't bounced back."
The senator argued that overturning the new Department of Labor rule, which she sees as a way to prevent those who suffered the greatest losses during the financial crisis from being hit again, could lead Americans to lose $17 billion a year in retirement savings.
"The senate will be voting be make it easier, easier, for shady financial institutions and unscrupulous financial advisors to mislead investors about the quality of investments so those advisors can continue pushing lousy products," she said.
Accusing Republicans of voting for the bill as a way to solicit donations from Wall Street to fund their upcoming campaigns, Warren decried support for the bill, and urged her fellow senators to join her in voting against the proposal on Tuesday.
"I will be voting no, because we weren't sent here just to raise money for re-elections," Warren said. "If [Republicans] don't remember it soon, you better bet the American people will remind them in November."
Watch Warren's speech here: 
https://www.facebook.com/senatorelizabethwarren/videos/598028813692949/