Politics
Senate Minority Leader Harry Reid bluntly shoots down proposition of an Elizabeth Warren vice presidency
The reason: Charlie Baker.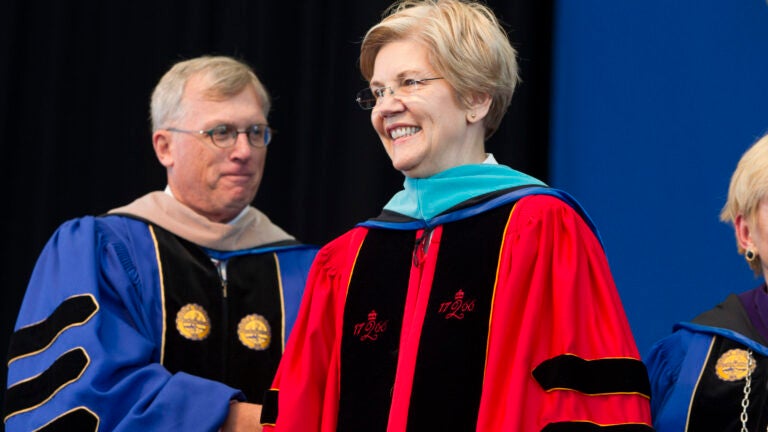 Nevada Sen. Harry Reid, the top Democrat in the U.S. Senate, had two simple words in response to the proposition of Hillary Clinton picking a vice president from a state with a Republican governor.
"Hell no."
Asked Monday on MSNBC about the possibility of Clinton picking Massachusetts Sen. Elizabeth Warren or Ohio Sen. Sherrod Brown—both progressive senators from states with GOP governors—as Democrats try to win back the Senate, the former majority leader said he would personally work to stop that from happening.
"If we have a Republican governor in any of those states, the answer is not only no, but hell no," Reid said. "And I would do whatever I can, and I think most of my Democratic colleagues here would say the same thing."
Reid said Democrats had still not recovered from the 1993 appointment of former Democratic Sen. Lloyd Bentsen, of Texas, as Treasury Secretary. Bentsen, who was also Massachusetts Gov. Michael Dukakis's running mate in 1988, was the last elected Democratic senator from Texas.
Though generally recognized as one of the most liberal states in the country, Massachusetts elected Republican Gov. Charlie Baker in 2014. Likewise, Ohio Gov. John Kasich is also a Republican.
Both GOP governors could appoint a replacement of their choosing if Warren or Brown were picked (and elected) to be vice president.
"I would yell and scream to stop that," Reid added Monday.
As Clinton nears clinching the nomination, both Warren and Brown have been speculated as potential running mates, in part to appeal to the more progressive supporters of fellow Democratic presidential candidate Bernie Sanders.
The New York Times reported last month that Brown, who has endorsed Clinton, was among those being discussed by the Clinton camp as a potential VP. According to the Times report, Warren, who has not endorsed the former secretary of state, had not been officially ruled out.
In her own right, Warren has insisted that she loves her current job and is not thinking about any others.
https://www.youtube.com/watch?v=8FEEw7K_nVs