Politics
Mayor Walsh says he's 'not running away' after aide's arrest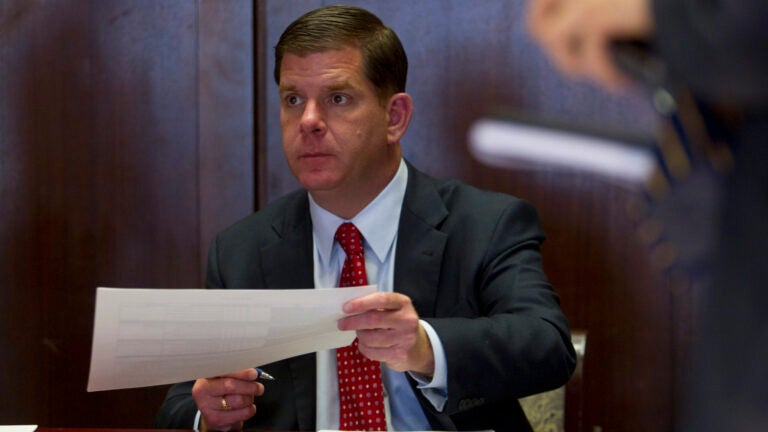 Mayor Marty Walsh said the arrest of Boston's top tourism official on a federal extortion charge was a "sad situation" involving a good person, but he affirmed it wouldn't change his approach to the job.
"I'm not running away from anything. I'm going to run towards it, and continue doing my job as mayor," Walsh said on WGBH's Boston Public Radio on Wednesday. "I don't have time to go into a shell, to hide. That's not my style."
The back-and-forth interview came a week after Ken Brissette, the city's director of tourism, was charged with extortion for allegedly using his power to pressure music festival Boston Calling into hiring union workers. Brissette pleaded not guilty to the charge.
"I intend to fight these false charges with everything at my disposal," Brissette said in a statement. "I look forward to my ultimate vindication in the United States District Court."
On the day of the Brissette's arrest, Walsh said he was confident he had done nothing wrong and said he was "saddened" by the arrest.
Walsh originally had planned to hold his monthly WGBH interview on Friday, but rescheduled the radio appearance. On WGBH on Wednesday, Walsh defended Brissette as a hard-worker and a kind person.
"[He's a] very nice, kind, caring human being who has a lot of friends and is always willing to help people," Walsh said.
The mayor also said he has not asked anybody in his office about the reference in the U.S. Attorney's indictment to an unnamed City Hall employee who allegedly advised event organizers to hire union workers.
He said the city-funded investigation into the tourism department led by former U.S. Attorney Brian Kelly would look at that particular issue as well as the entire office.