Politics
Donald Trump gets called out during press conference for 'offensive' remark aimed at Elizabeth Warren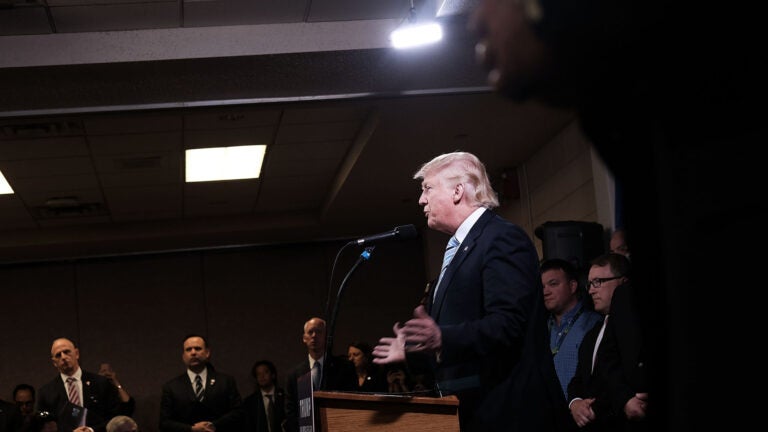 Donald Trump continued to mock Elizabeth Warren's claims of Native American ancestry, as the two continued their public war of words from a distance Thursday. However, this time, the Republican candidate's remarks apparently offended someone in the same room.
As a reporter began a question about the Massachusetts senator during a press conference in Bismarck, North Dakota, Trump interjected to say, "Who? Pocahontas?"
The remark garnered a few laughs from Trump's supporters on stage, but not all in attendance were amused.
Trump on his "Pocahontas" remark about Warren: "I think she's as Native American as I am" https://t.co/dTZk2b0OcW https://t.co/GdfAp49CR0

— CNN (@CNN) May 26, 2016
"That's very offensive. Sorry," replied a person in the audience, later identified as Nicole Robertson, a writer and media specialist from Canada and member of the Cree nation.
Nicole Robertson, a Native American writer and blogger, says Trump's "Pocahontas" jab at Warren is "offensive." pic.twitter.com/f6Z5nKvYI5

— Sarah McCammon NPR (@sarahmccammon) May 26, 2016
According to a Guardian reporter, Robertson has previously asked Trump a question about tribal sovereignty.
"Oh, alright, I'm sorry about that," Trump responded sarcastically, to Robertson before turning back to the original questioner.
"Pocahontas?" he repeated. "Is that want you just said? Elizabeth Warren?"
Trump noted that the Massachusetts Democrat, who has become one of Trump's most vocal and prominent attackers, "tweets a lot about [him]" and is a "highly overrated senator."
The New York businessman, who recently suggested he would debate Vermont Sen. Bernie Sanders, added that he would be willing to debate the senior senator from Massachusetts as well.
Trump also suggested that Warren's claims of Native American helped her get into schools during her law career. Faculty and deans from schools where she taught have said Warren's contested heritage did not play a factor in her hiring, according to a Boston Globe report in 2012.
"I think she is as Native American as I am, that I will tell you," Trump said during the press conference Thursday. "But she's a woman that's been very ineffective, other than she's got a big mouth."
Trump's press conference Thursday took place shortly after he reached the clinching number of primary delegates required for the Republican presidential nomination, after a group of unbound delegates announced they would support him.
Later in the afternoon, Trump tweeted that he was likewise offended, to which Warren responded that he should "get [his] facts straight."
Get your facts straight, @realDonaldTrump. I didn't even go to Harvard – I'm a graduate of @UHouston and @RutgersU.

— Elizabeth Warren (@elizabethforma) May 26, 2016
If @realDonaldTrump means my job at Harvard, he can ask Charles Fried, Solicitor General for Reagan. He says loud & clear that's a lie.

— Elizabeth Warren (@elizabethforma) May 26, 2016
In 2012, Charles Fried, a Harvard Law professor and former Reagan administration cabinet member, called the suggestion Warren got a job because of her ancestry "false" and "complete nonsense." According to a Associated Press report at the time, Fried said Warren was recruited to teach at Harvard because of her preeminence in bankruptcy and commercial law.